The Dancing Hare, the 189 ft superyacht, currently moored in Auckland after traversing the South Pacific and Caribbean Sea turns out to be long to Rupert Murdoch.
Pre lock down DEADLINE began investigating this boat after it emerged in NZ and the Australian firms found to be crewing the boat were found to have multiple links to charity which Jeffrey Girl Friend was tied to.
The boat which left Monaco at the time of Ghislaine late public appearance was literally pounced up by fans of Billy TK & QANON politics who proceeded to make a series of outlandish claims about the boat including that Ghislaine was in NZ hiding of the coast in a "yellow submarine".
Stories fuelled by a series of stories produced by the Murdoch papers themselves which asked where Ghislaine and offered a reward for her where abouts. The irony being Murdoch himself was named in the Epstein black book on page 39






The stories came just days before it was revealed Ghislaine had being arrested on the other side of the world. A tactic which succeed in under mining mainstream interest in why the boat was in New Zealand by mainstream press sources as the QANON/Billy Bull-shitter brigade failed to get even basic fact correct.

My own stories had never identified Ghislaine as being on board as instead I sought to focus on the big business specifically big tech and big pharma's interest in New Zealand (A NEW WORLD: Prt3 – Dark Vision) and peaked with several luxury yachts and private jets linked to billionaires riding the Covid profit wave and with large New Zealand government contracts coming to NZ during lockdown such as Jeff Bezos, Google's Larry Page, Microsoft former CEO Bill Gates, Dr Nasser Ibrahim Al-Rashi, many of whom could be extensively linked to the same charity and money laundering networks including;

MORE MURDOCH MACHIVIALLIANISM
Other boats in Auckland's West Haven harbour, there in advance of the Americas Cup (which has it own banking and big tech links beyond racing) at the time of Dancing Hare (Lady Ghislaine) at time included;
GAYLE FORCE: Pleasure Craft Marshall (flag of convenience), owners Texas oil billionaires Wayne and Gayle Laufer. Wayne Laufer is CEO to Bois D'arc energy water magnates. In 2016 the Laufer's donated $600,000 to the $900 million Freedom Partners Action Fund. The FPAF is part of a cartel of energy firms headed by Koch Brothers (who today are George Soros partners in global policy)* who backed Donald Trump run for the white House.
*George Soros also has past history with Donald Trump having lent trump the money to build the Donald Trump Tower in New York in 2004. This also leads back to the Deutsche Bank New York accounts affiliated with Epstein, the Clinton's.

Bois d'Arc Energy discover and produces oil and natural gas resources in the Gulf of Mexico Shelf. 
The Company's operations include the usage of seismic and drilling technology. Laufer had being sailing around the Chile sector of Antarctica (Chile) which is thought to be rich in minerals oil and gas reserves.

In 2018 Charles and David Koch funded a multi-million dollar campaign against President Donald Trump's trade tariffs. The move comes just days after there long term ally Trump imposed tariffs on steel and aluminium imports from the EU, Canada and Mexico. The three Koch-backed groups launching the campaign against Mr Trump's tariffs: Koch political lobbying tools included Freedom Partners Chamber of Commerce, Americans for Prosperity and the LIBRE Initiative, urged the president to lift the recent tariffs on aluminium and steel imports as well as the proposed tariffs on other imports from China.

2. SAMAYA: Marshall Islands (flag of convenience) designed for "scientists and media to be used as a platform to create material which will not only educate future generations about marine life but also protect the endangered creatures that live in our oceans". The owner like Maxwell has a clear passion for ocean conservation More an exploration survey ship than pleasure vessel.
It's believed the vessel is owned by the Murdoch family who run the publishing empire built up by Robert Maxwell's former rival Rupert Murdoch. Senior Murdoch represents the conservative pro Donald Trump face of Murdoch publishing behemoth. While his son and their wives are usually associated with the pro Clinton, Third Culture/Third Way (neoliberal with a dash of progressive liberal window dressing) vision of globalism.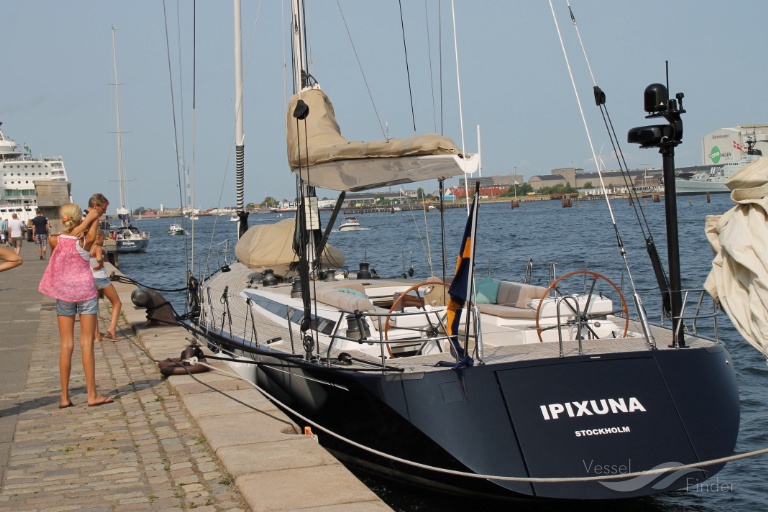 3. IPIXUNA: Sailing Vessel Swedish Owned by Lachlan Murdoch', the eldest son of Australian-born American media mogul Robert Murdoch, whose equal had once being Robert Maxwell, Ghislaine Maxwell's father.
Lachlan sister in law sister Kathryn Murdoch sat on the board of the Clinton Climate Initiative, part of the Clinton Foundation charity which Jeffrey Epstein had designed for the Clinton's, in 2006. The Clinton Foundation donors have included the New Zealand Government.
Between 2007-2011, Ms. Murdoch served as Director of Strategy & Communications for the Clinton Climate Initiative (CCI) where she also managed CCI 's partnership with Microsoft in the development of a global greenhouse gas emissions tracking software.
In 2008 Robert Murdoch donated $US500,000 to the Clinton Foundation's Climate Initiative saying "The planet deserves the benefit of the doubt," while announcing plans to reduce the company's carbon footprint to zero and become the first North American media company to "commit to science-based targets to limit climate change". This of course never actually happened but it did not stop the Murdoch's from donating to the Clinton's Foundation's political war chest under the pretext of wanting to look green.
Since them that has being the Murdoch's families standard tactic James and wife Kathryn Murdoch talk green, elder Murdoch is despised by the Greens, while Lachlan Murdoch makes sure the Murdoch communication empire continues making the green who ever emerges as the winner in elites battle of third culture new world order verses the conservative old world order perspective. Either way the winner is bound to be a Murdoch.

More than 300 selected medical staff at hospitals, including the Bill & Melissa Gates Foundation funded Murdoch Children's Research Institute in Melbourne, were vaccinated with BCG vaccine in April part of a study, which will eventually extend to 4000 workers nationally. Sarah and Lachlan Murdoch, who donated $700,000 to the trial, said it was vital to support both the staff tasked with caring for infected patients and those ­trying to develop a vaccine to beat the deadly pathogen. This is despite the World Health Organisation says there is no evidence that the BCG protects people from Covid-19 infection. A vaccine never the less endorsed by the New Zealand government

Ironically anti-vaccine talking points are a standard for Murdoch's Fox News audience. According to a Yahoo News/YouGov poll in May, half of all Americans who name Fox News as their primary television news source believe the conspiracy theory that tech billionaire Bill Gates is scheming to use COVID-19 vaccinations as a method of implanting microchips in people so that he can track their every movement. 

Yet much like Billy Bullshitter (NZPP) and New Zealand's QNON Dancing Hare hysteric such news, low on fact and high in hyperbole, serves the Murdoch very well. For it ensures the narrative is kept to a narrow and childish 'vaccine good vaccine bad' debate while more complicated issues such as vaccine profiteering, price fixing, cross contamination and poor vaccine applications, quality controls and lets not forget their being zero legal amenity for vaccine manufactures and the dubiousness of vaccine funding/money laundering slush funds and Murdoch's own numerous conflicts of interest are thus kept off the airways.

You can thus continue to expect the normal practice of the corporate media to ignore these issues as the Billy T & QANON of the world will continue to serve their role of reporting these issues but with equal narrow mindedness, ghoulish sensationalism and deliberate inaccuracies, as the corporate alpha predators — two sides of the same coin paying for this ultra simplistic narrative.