By Ben Vidgen.

A far-right extremist group targeted the office last week, accusing MP Jian Yang of being a spy for the Chinese government. "We're still working our way through details with police… You have to kind of sit there and go, 'National Party headquarters, three laptops gone – it does really trigger some suspicion, that's for sure." said National Party MP Paula Bennet.

You bet it does. Especially as it comes a week after National voiced concern about armed police targeting alt right activists. A move which undermines the democratic protection of the parliamentary submission process and martyrs groups who really don't deserve such oxygen or public exposure.

Its interesting to note "The National Party didn't respond to Newshub's request for comment on that incident" and if there was sensitive data on those lap tops you kind of have to ask how did a group like Zealandia know.
In fact who are Zealandia?
The group in question is Action Zealandia. It list no members but its website include photos of only a handful of people blacked out. One member name is listed John Fromme which appears to be non-de-plum piss take of John Frum a mythical white American solider worshipped in the Pacific Island cargo cultism. The cult believed Frum would deliver riches to the indigenous people if they adopted Christianity. Zealandia was launched in July 2019 and has in many ways a similar feel and methodology of groups like National Front began by skin head Kyle Chapman who now heads the Right Wing Resistance group.

In 1994 under the National party's Jim Bolger the National Front received $35,000 from the Prime Minister office and Karl Chapman was employed by the Christchurch City Council.

Additional right wing groups with ties to National included Minerva. Minerva was mercenary company run by Rohdesia and South African SAS officers that was a subsidiary to SM Andrews whose directors included national Party cabinet minister Hugh Templeton and Les Gandar. It was based in Christchurch and Dunedin.

Or their is former National Party arms dealer and mercenary recruiter Ross Meurant who left National in 1995 to work with a bank owned by former (anti Putin) Russian intelligence officers before then forming ROC Right of Centre party. Meurant continues to work with his far eastern European contacts. In addition to maintaining a relationship with NZ First Winston Peters for whom Meurant worked as a researcher and took political donations from the same Easter European descendent fishing families under investigation. Families like the Talleovich and Velas that were subject to inquiries regarding corruption with the fishing industry, an industry in turn closely associated with right wing biker gangs like Dunedin's Southern Viking and Canterbury's Road Knights who have since being assimilated into large gangs like the Bandido and Headhunters. The later of which Meurant recently addressed in relation to the issue of government corruption. Gangs which also draws from the mining industry to which Australian based gangs like the Comacheros draw from.

Or their is mining investor James Blanchard who funded the anti communist mercenaries (recruited from far right circles) in Africa. Blanchard owned property with Sir Roger Douglas in the Wairarapa where Jacinda Adern government recently invited a US Air Force b-52 used for dropping nuclear bombs to attend the 2018 Wings over Wairarapa. The region where local MP New Zealand first Ron Mark, a former mercenary, is the minister of defence is based.
*In 1999 CAFCA wrote to the OIC in 1997 asking if the backgrounds of two of them were consistent with the "good character" requirements in the Overseas Investment Act. After checking their records with the police, rather than affirm that it was confident of their good character, this follows Blanchard being out for funding right wing mercenaries. For further details, see CAFCA November 1995, June 1996, and August 1996, and "The Intriguing story of Roger Douglas and his unpleasant friends at Wharekauhau Lodge", Foreign Control Watchdog, no. 84, May 1997, p.6-14. "These associations provide evidence of Douglas's links with the far right in the U.S.A. and U.K".
http://canterbury.cyberplace.org.nz/community/CAFCA/cafca99/Jan99.html
https://docplayer.net/37942111-Winston-s-petered-out.html
https://www.counterpunch.org/2015/07/30/how-one-safari-nut-the-cia-and-neoliberal-environmentalists-plotted-to-destroy-mozambique/
See also; Spiritual Warfare: The Politics of the Christian Right By Sara Diamond South End Press Boston 1989.
Douglas was leader of the right wing Act party who in the 1980's headed Labour's turn to the right, known as Rogernomics after Labour got elected on a policy of no nukes as advocated by the charismatic David Lange. A policy which this government has torn up if the 2019 B-52 invitation is any thing to go by.

Chapman temporarily moved to Hamilton a few years ago after being betrothed to Mormon missionary Claire Clifford before returning to found RWRNZ' ('Right Wing Resistance New Zealand'). RWR is the New Zealand far right organisation listed in Australia as recruiting right wing Australian who later fought as mercenary for western backed Neo Nazi militia in the Ukraine. Australia and New Zealand authorities are keeping how the Australian mercenaries travelled to the Ukraine close to their chess. Thus replicating the same silence which surround Brenton Tarrant Wellington Australian Embassy visa documentation and his departure from New Zealand where his where about and travel itinerary remains a mystery, after he first arrived in New Zealand in 2010, until a six year black out. Though Tarrant himself states he visited the Ukraine.

One more awkward question Labour refuses to answer.

http://www.donbass-insider.com/2019/03/16/new-zealand-terrorist-said-in-his-manifesto-that-he-was-in-ukraine/

https://postmanproductions.wordpress.com/2019/06/27/masonry-scotia-dear-dunedin-a-tale-about-the-tartan-mafia-white-supremacy-rifle-clubs-in-nz/

In January 2019 Waitea.com noted that Labour apparatchik Martyn Bradbury warned with uncanny foresight the of the rise of a new right wing movement "makes for an interesting start to 2019" …"A new right wing movement in New Zealand is set to attempt to emulate the high vis vest movement in France with protests planned on February 2nd."
This statement interesting as it is part of the neo-liberal proganada which has attempted to make the multi ethnic class based French protest out to be right wing when the reality is
A) The majority of the yellow vest protest is made up of the same sort of people who would have protested against the TPPA.
B) The right wing fraction (which does exist) in the yellow vest movement over seas is estimated as being less than 5% far smaller than the very large content of far left and socialist groups who also attend the protest a quick search on line make that fact very clear. For example the link below endorsing the yellow vest comes from the world socialist website.
https://www.wsws.org/…/t…/newsCategory/yellow-vest-protests
Waite.com paraphrasing Bradbury states "The only connection between the NZ alt-right who are planning these protests and the French Left who are staging them in Paris is anger against fuel taxes and the desire for violent radical action".
The reality is the yellow vest movement in NZ is apolitical and largely reject party politics, which it sees as a tool of corporate lobbyists, and it is in fact far less violent than the french yellow vest movement. It has kept it activism, to date, confined to face book post and the wearing of yellow vest at protests ranging from council meetings to anti Waihopai anti war protest.

Like the 1080 propaganda the Labour (you know the guys who signed the TPPA along with National) party apparatchiks seek to plaster an intent and political affiliation upon the yellow vest which simply does not exists. The opposition to yellow vest at its roots seems to come from campus marae union based party controlled apparatchiks loosing control over the activism scene in general. A consequence in no small part due to the same apparatchik system outing itself as controlled opposition when it failed to take Labour and the Iwi corporate to task for signing the TPPA and misleading former supporters about the constitutional aspect of the trade deal (which were exposed by the action of the indigenous people of Canada) and it impact on New Zealand sovereignty and indigenous rights. Specifically that very apparatchik system attacked those who warned of attempts to undermine and remove the very same constitutional mechanics used by Canada's First Nation to protect their own rights and sovereignty.

I know this as I was there as the joke goes.
For example the exclusion of the article 29 of the Magan Carta form the Labour National backed 2013 Constitutional review.
These are the very things that the genuine left stood up for. As those who chose to put their faith in Labour ignored its overt reversion to 1980's right wing Rogernomics styled neoliberalsim. Those factions chose to disbelieve anti Rogernomics critics interpretation of the TPPA and constitutional subversion and continue to attack, despite the validity of those arguments being proven by Canada's First Nation TPP arguments which resulted in suspension of the TPPA investment settlement solution dispute clause (which allows corporations to sue government). A situation which occurred because the indigenous people of Canadia like wise face under Trudea a government who claims liberal credentials but in reality embraces right wing neo-liberalism.
A situation also replicated in France where Macron like Adern and Trudea lobby for greater social media control as a means of censoring those who expose their endorsement of right wing trade deals and their right wing promotion of greater powers for the security forces. Polices and abuse of power which makes them in the end little better than the Trumps and Johnston. neo conservatives who ultimately are in power through the very same corporate lobby dollars that back neo-liberal leaders.

Jokers to the 'left' (cough) fools to the right anarchy calls bullshit on both.
"The Alt-Right( any one who wont follow the party politics controlled narrative) in NZ intend to harness anger over open ended migration swamping poorly funded infrastructure and housing and the political vehicle they will try and use is the New Conservatives".
Bradbury again play the pro TPPA Labour party voice by suggesting anger over policy is 'alt right'. He conveniently forgetting that Global Migration Pact, which promotes such polices, is simply Mike Moore (Rogernomic's PR guy and the UN first Global Migration Envoy) 'World Without Walls' rehashed. World Without Walls was a free trade neo-liberal strategy widely denounced in the 1990's by the left, those who oppose cheap migrant labour, undermining of indigenous rights and an attacks upon the environment.
Bradbury article is again a Labour based apparatchiks attack on the pro 1835 sovereignty monument which opposed the TPPA (endorsed by NZ First, Labour and National) and has successfully managed to mobilise both pakeha and Maori hapu into protesting against corporate iwi endorsement of pro-corporate, pro Agenda 21 (Agenda 2030) privatisation schemes.

Anarchy Aotearoa AOK!!
POU, the Kaikoura based community group which is endorsed by the Maori Council and opposes the over development of the Kaikoura Highway, is great example of New Zealanders coming from across the political spectrum. who are motivated by anger at partisan party politics. Politics which has used emergency legislation to push through development which undermines the environment and local community interest. Its however the last part of Bradbury post on Waitea.com that is the most interesting in light of the lap top theft and what we can expect next from the party politics bullshit parade.
"The National Party with its reliance on Chinese money for support and high level personal business deals with many front bench MPs means they are too compromised for this type of political messaging (although Simon Bridges tried to push against the UN resolution on migration late last year), which leaves the New Conservatives perfectly placed to turn politics into a toxic culture war"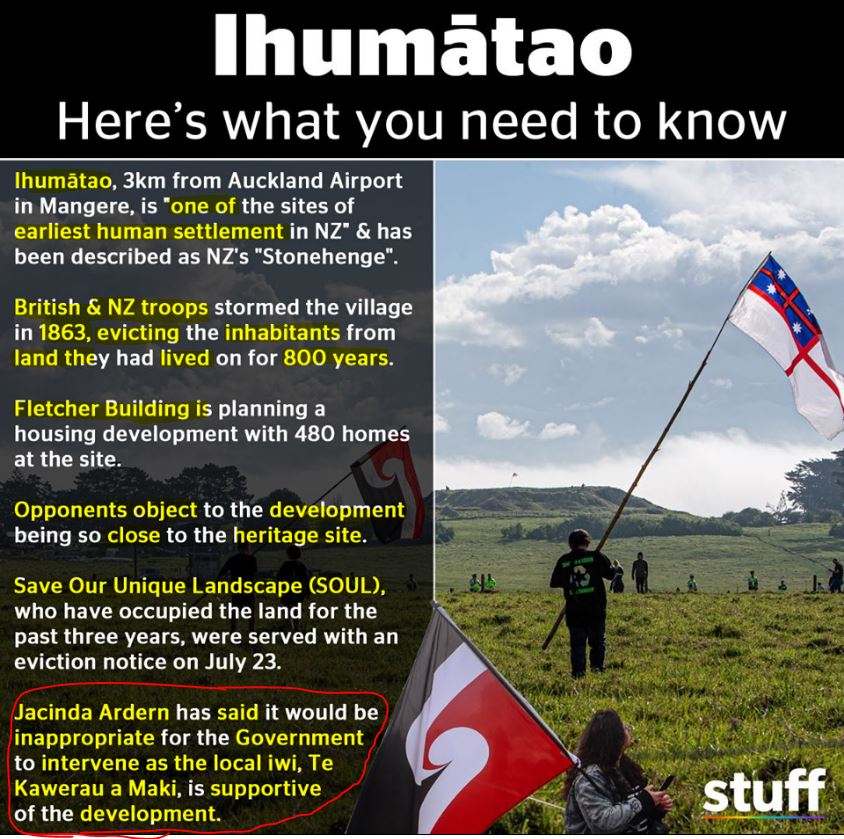 Not really the yellow vest movement in New Zealand, a non hierarchical non party aligned action group, as whole support the 1835 sovereignty movement and the local hapus even if it distrust the corporate iwi and Labour Party and the campus, union, marae party controlled apparatchiks, for selling it out to the neo-liberal pro-corporate pro-TPPA party politics bullshit elements.

A situation highlighted by both Ihumatao and Ngapuhi protest against the Crown and the corporate iwi.
Many are already anticipating The lap top theft, allegedly by a pop up group who went and plastered their corporate media covered calling cars a week before the theft, will shortly be followed by a leak.
A leak (in which the information is insinuated to have come from the laptop theft ( but no real proof will be forth coming to confirm) coinciding with the current SFO investigation of National for donation fraud, that enhances the view of National ties to China and will do two things
1. Enhance National in the eyes of Chinese based voters while ignoring the real pro Trump right wing fraction usually tend to focus not on National but on Jacinda Adern who they call a "pretty communist". That element of always course ignore Labour pro corporate stance as they focus on Labour ties to China (while also ignoring Labours entrenchment of pro USA five eyes and it willingness to turn New Zealand into a land locked Lockheed martin built American aircraft carry bristling with US military space war tech — (such as Lockheed Martin Rocket Lab whose military nature is becoming increasingly obvious).
2. Enhance calls for the need to crack down on 'violent' "alt right" "extremist" who oppose pro TPPA, Agenda 21, neo-liberal corporate policies and US militarisation of Aotearoa and the view protesters need to go back to listening to the Labour controlled apparatchiks. The fraction who screwed the left over visa their silence visa Labour betrayal of the TPPA and the polices behind it. Polices which the vast majority of the anti TPPA camp marched against in 2016/17. The anti TPPA camp then comprising largely of a demography who voted for Labour in 2017 on the understand Labour would walk away from the ultra right wing pro multinational pro war toys TPPA. Which it did not do.

The alt-right according to Labour apparatchiks are dominated by those who wont let us forget Labour's right wing betrayal. Where as the Labour apparatchiks are the one willing to forget this major fact and Labours willingness to let USA war toys pop up all over the country (while in the same breath it signs draconian trade deals with China). Both factors fuel the drive to exploit and mine resources needed by both super powers. A demand which is shaping where infrastructure is being built and were its not. Pretty sure being pro mining and pro war is not the usal criteria of the left.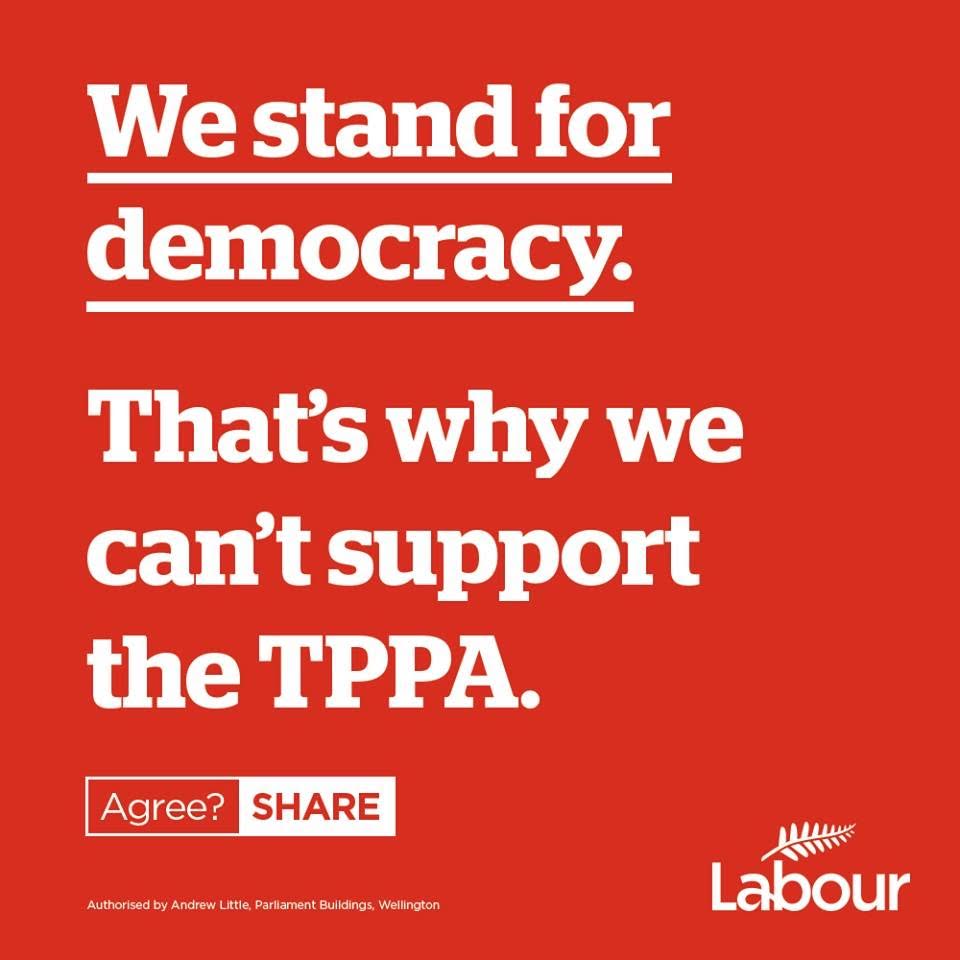 Instead Labour voted for the TPPA (which they introduced under the government of Helen Clark) with the support of NZ First and National. Parties who happily, if schizophrenically, got into bed with both China and the USA two super powers. Super powers who however are themselves both under the influence of the power of multinational transnational corporation whose ideology is clearly fascist and right wing.
As Bradbury ends his post "We need to accept that the free market has left many in New Zealand behind, especially Māori and Pacifica, and it has hurt a large amount of working white people as well. To stop the far right from becoming a real threat, we need to acknowledge these pressures and have difficult discussions about immigration, public funding of services and what it actually means to be a citizen living in New Zealand". Duh!
In January this year the Labour friendly Daily Blog also echoed Bradbury's sentiment stating "Look, I appreciate that anyone who questions Chinese influence in NZ politics gets outed on twitter as a xenophobic racist, but only the Spinoff really listens to the woke anymore and I think we are getting to a point in all of this where National's constant acquiescence to Chinese Business is fast becoming a national security issue…"

https://thedailyblog.co.nz/2020/01/16/dear-new-zealand-can-we-talk-about-china-and-national-yet-and-please-sign-this-petition-to-remove-a-chinese-spy/
The line omits Labours own Chinese intelligence links which were exposed following the outing of Canadian intelligence and Five Eyes analyst Cameron Ortis late last year. Now the pressure on and Labour if it wants to stay in power needs to prove itself to the USA. And so the word is out China bad, 'alt right'; bad too. But sssh don't mention the American war toys backed by Labour National NZ First and even the Greens. More party politics bull$hit.

That would be the same fraction who has pointed out the duality of corruption coming from both parties. Which in my left wing punk rocker (remember all you have to do to be labelled alt right by Labour is say Labour right wing pro corporate policies suck – which they do) anarchist dogma also extended to me reporting on how the USA is as bad as China. Both are in the business of undermining New Zealand's sovereignty and democracy. In fact its as bad as all the genuine right wing connections that were not followed up or investigated following the March 15th shooting as they led to awkward question regarding both parties links to anti democratic forces at work in New Zealand. Party politic might be bullshit but I'm kind of fond of constitutionalism and due process and I get rather annoyed when I see party politics pissing on it.

Which they do with great frequency.
Labour its seems (at least on the surface) has picked a side and is sending a message to its party faithful. Were going to keeping cracking down on the "alt (white right)" (I mean we cant have Pakeha Maori and Pacific anti corporate activists getting too unified can we), while pointing the blame game finger at the China and National. And if the laptop stolen by an alt right group, that just popped up out of no where, has evidence of collusion between China and National Party so much the better, then labour can take out two birds with one stone.
The problem with that narrative is
A) It does not take into account such groups traditional links to the National Party and New Zealand First.
B) It excludes Labour and the Canadian Liberal party's own history of collusion with Chinese intelligence (which has clear NZ links).
C) The issue of "open ended migration swamping poorly funded infrastructure", debt borrowing and housing is an issue which was created by both National and Labour due to their addiction to right wing neo-liberal policies and donation dollars. Dollars which came from both the USA and China. The decision for the 'left' (Labour party apparatchiks) to suddenly become anti Chinese comes only following the anger at of George Soros (the darling of the 'left' (cough), who over look Soros's ties to Donald Trumps mates oil Barron the Koch brothers) at China for not coming into the globalist Agenda 2030 club. For out smarting the neo-liberalist globalist as they used Agenda 2030 to further their own plans for industrial expansion in Asia, Africa and the Pacific The Road and Belt scheme.
A scheme which Labour also signed into along with China's TPPA like REPC (Regional Comprehensive Economic Partnership). A deal which like the TPPA Investment State Settlement Dispute clauses (which Labour have moved forward despite it having being "suspended" in 2017 following legal moves by the indigenous Indians of Canada [go my Canadians brothers]) allows New Zealand sovereignty and indigenous rights to be stomped upon.

https://minterellison.co.nz/our-view/still-standing-investors-ability-to-sue-the-government-under-cptpp
To quote "Yesterday, in Bangkok, Prime Minister Jacinda Ardern and Chinese Premier Li Keqiang inked the long-awaited upgrade to the China-New Zealand free trade agreement after a three-year wait. New Zealand is clearly in Beijing's good books".
So just like the TPPA Labour's right wing neo-liberal core is going to keep playing a two faced game. It will pretend its against China (just like it pretended it was against the TPPA) supported via the voice of it working class unionist, pacific and Marae spokes people and Labour friendly clergy and far right campus abased apparatchiks. All the while behind closed doors the sell out of Maori Pacific and Pakeha and new migrants (seeking a better life in land not under corporate fascist rule) will continue as usual. Fact is the Labour controlled apparatchiks can play the anti-China card but in reality it has locked us into both the TPPA and the RECP. The only winner being the 21st century profit obsessed mega corporations whose power transcend the 20th century idea of super power hegemony and if you think that good then you really are a pro right winger.

What is clear the issue of the next election are being drawn up, the targets identified and it not hard to see how the spin of the balls going to role.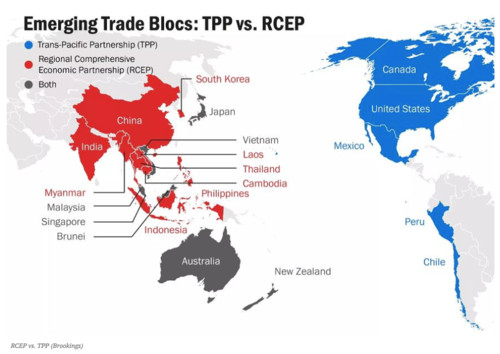 https://www.newsroom.co.nz/…/peters-wont-let-yang-allegatio…
https://www.nzherald.co.nz/nz/news/article.cfm… 'More than $17m transferred from Bahamas to NZ bank account following corruption, money laundering scandal in Venezuela oil company'
https://multiculturaltimes.news/…/chinese-builders-and-fina…
https://www.newsroom.co.nz/…/raymond-huo-steps-down-as-chair
https://www.stuff.co.nz/…/lianne-dalziels-family-business-l…