Down the March 15th Rabbit Hole

"Little Alice fell
d
o
w
n
the hOle,
bumped her head
and bruised her soul"
― Lewis Carroll, Alice in Wonderland

Ben's World: The Occupation of NZ, HAARP, KAIKOURA, AGENDA 21,

Best selling author Ben Vidgen sixty minutes rant on Kaikoura, the TPPA, New Zealand seventy year role in top secret and geowarfare based 'electron bomb' (second generation weapons) and other sppoky stuff right in our own back yard. Below the visual aids to that briefing.

I will be updating this and adding to it so do feel free to check what else I put up. Also I freestyled this so at bottom are few wee corrections addded to just to make sure every thing I say is accurate.
Christchurch secret WWII HQ tied to March 15 Shooting via Armed Offenders exercise at St Margarets were one of the tunnel exits are and the Geowarfare technology US defence funded HAARP can be tied to a laser based earth observatory. (See also https://www.science.gov/topicpages/h/haarp+observatory+gakona) Dont believe me well buckle up because were going down the hole literally.

The laser, located in this secret tunnel complex is part of Canterbury University physics program. It measures so were told publically variations in the earth's rotation was originally set on the top floor of a building on the Ilam campus. Yet such a location meant that the experiments were constantly being disturbed by wind, heat, and the movement of people.

After considering the war time military tunnels in Lyttelton and a seismological station at Gebbies Pass, it was eventually proposed to make use of the Cashmere caverns part of once top secret war time complex.
Above Below: Cashmere House, built by John Frederick Cracroft Wilson and the above earth part of the WWII Combined Headquarters Southern Command (now rebuilt as the Old Stone building) complex.

Below the tunnels behind St Margarets Hospital acess is restricted and its claimed the stairwell was decommisoned. I suspect this is not true and believe several homes in Cashmere, the Sign of the Takahe, the former Girl Guides and former Cashmere Masonic lodge, have or have being at one points or another points of acess (possibly even without existing owners knowledge) to a complex whose existence we have only seen the tip of.

Before the quakes, Takahe was a high-end restaurant, bar, wedding and function venue run by Christchurch businessmen Mark Bouvet​​ and Richard Freeman renown for its private gatherings and well connected client from prominent media and political circles.
Richard Freeman is a director of Onyx homes whose Black Hummer on Dwyer Road is well known and not popular with cyclist or parents. Well-known in Christchurch, he was previously involved with Ironclad Securities.

Ironclad Securities a now defunct debt collecting firm linked to the Head Hunters gang a top level organised New Zealand crime cartel. (We will be revisiting this issue at a later point) whatever their bleating they are just motorbike club .

A recent inquiry into Freeman's body building wife Priscilla Rose was held under intense media interest in New Zealand and was met with tight court suppression.
It however is not the first time Freeman name has being subject to media scrutiny or Christchurch gangs have interesting ties to Christchurch 'beautiful' people.

White Supremacist MC Mediawork forgets to mention.
Iron Clad sole director is Lyndon Richardson — a patched member of the Head Hunters' west chapter. He is a former senior member of the Road Knights MC in Invercargill and has convictions for serious drug offending. Iron Clad also had links to the Bandido Motorcycle Gang who in 2017 stole 20,000 rounds and weapons from the Dunedin Pistol club affiliated with the Milton Rife Range used by Christchurch Mosque shooter Brenton Tarrant and Dunedin's shooting scene (which drew critism from other club and individual dating back to at least 2010).

In 2016 Police raided Richardson house looking for guns but would not say why. It took place as Police raided the Head Hunters Club in Auckland and seized an arsenal od weapins inluding machine guns and sniper weapons one of several raids up down the country which sure nearly a thousand weapons seized from well stocked weapons caches.
The Bandidos (who are more multi ethnic friendly than the earlier predessors – are driven more by $ than ideleogy [with handful of SV not patching over as they think the Bandidos soft] ) — are largely an amalgamation of the the South Vikings (SV) and Road Knight, traditionally white motorcycle gangs, with affilations to the white supremacist groups and biker groups overseas and to The National Front in New Zealand and other skin head groups which many of the working class and families of estaern european descent recruited from traditionally.

Folk I speak to seem to think the "ban-dildos" not that a bigger deal "more walkies than bikeies" but within the inner circle – as the weapons theft in Dunedin in 2017 showed – some membrs were doubled patched and in reality came from more senior gangs like the political and celebrity affiliated Head Hunters (and above them the Hells Angels) who rode into Dunedin for high level talks on march 2015 were apparently this author name got a mention. The directly white power gangs work in a similar manner as boots and braces get replaced by suits 'aprons' and or bibles.

The NF Christchurch president of the 80's 90's Karl Chapman (centre), once worked for the Christchurch counsel and the NF recieved thousands of dollers from the Prime Minister crime Prevention fund Jim Bolgers National goverment. Though in sayin that a senior Labour MPs was also rumoured to use gangs to create dramas when facing scandal or Labour was low in the polls. Or so I heard when researching my 1999 best seller State Secrets* (were I documented all this), with the assitance of MP aid Yarni Johansen now a City Councillor and a person this auhtor holds high regards for.

* Also were I documented the role of Gun City in just one of many incidents were Christian Fundamentalist and gun trader David Tipple of Gun City name I raised in relation to prominent National MP's and Christchurch businessmen involved in arms and mercenaries related to the 1980 Iran Contra affair and the role of sypplying weapons to both Islamic militants in Afghanistan and the right wince contra forces in Nicaragua. Like Humphrey Rolleston the chairman of the Christchurch Foundation and prominent share holder in the Christchurch Press and South Caterbury and its russian mafia laundering subsidaries.

https://defamationupdate.co.nz/sites/all/pdf/2018/Staples-and-anor-v-Freeman-and-ors-2018-NZHC-1604.pdf

https://www.stuff.co.nz/national/crime/75752484/
The Sign of the Takahe will officially reopen on September 22 2019, ending the Christchurch heritage building's closure of more than eight years as reconstruction went on after the Christchurch earthquakes in, around and under, the city of rocknroll.

THE SECRET UNDER WORLD OF CASHMERE
Cracroft House, located in the affluent hilltop suburb of Cashmere Christchurch (were the locals try to be more english than the english), was given gave to the Girls Guides Association in 1959 (before they built the near by located facility) and is still in their possession today.

The Cracroft homestead was demolished in 2012 due to earthquake damage but rebuilt. Allegedly the stair well between the two no longer funtions but several power cable leading up the stair well suggest that story is questionable. The war time caverns were never finished (plans for the complex were massive) allegedly. A week before the Army moved out of the Cashmere House, it was destroyed by fire. Rumor maintains it was lit on purpose but nothing can confirm that claim todate.
Note: This refers to just the "Ground floor plan and is referred to just the "access tunnel"
The exit to the entrance of this massive complex which were told was never fully built is behind the Princess Margaret Hospital and is now known now as the Cracroft Caverns or the Cashmere Caves. Tours are done by request only.
During the 1920's, the Cracroft Wilson's sold 110 hectares to Harry Ell (who built the Sign of the Takahe – some times reffered to as the National Party social club) who was in the middle of his "full on" Summit Road project.

Ell pushed for the creation of a network of scenic reserves along Christchurch's Port Hills, linked by the Summit Road and with a network of rest-houses to allow travellers and walkers to refresh themselves. Three of these rest-houses, designed by architect Samuel Hurst Seager, were completed during Ell's lifetime: the Sign of the Bellbird, Sign of the Kiwi, and Sign of the Packhorse. The last, and grandest, the Sign of the Takahe, was not completed until long after Ell's death, in 1949. All four houses were built of local stone, and designed to blend in with the pourous volcanic landscape.
Today, we find Cracroft Reserve tucked in behind the Sign of the Takahe, one of the resting spots built by Harry Ell for weary travellers using his Summit Road to Akaroa as you head to Birdling Flat.
The Port Hills and Lyttleton have a history of tunnel work and military construction dating back to the 1900s (the fake politically engineered Russian invasion fortifications).
http://www.stuff.co.nz/the-press/editors-picks/5874381/Lyttelton-exploring-its-secrets

Its famous rail tunnel a massive engineering feat but nothing compared to later WWII construction which proved much larger than we first thought when the tunnels were discovered by journlaist looking in the archives in the 1980's. Events following the Christchuch quake and the discovery of further tunnels piqued interest again

Defence Department records held this succinct summary:
"Additional facilities for fuel oil storage at Lyttelton was recommended by Chiefs of Staff in June, 1943. Two months later, War Cabinet approved the construction of two underground tunnels each capable of holding 6000 tons of oil. These were driven 500 feet into solid rock, the dimensions being 20 feet 6 inches (6.2 metres) wide and 32 feet and 9 inches (9.9 metres) from the floor to the crown of their arch. The work was about 37 per cent complete (excavation 70 per cent) when construction was stopped in September, 1944. The expenditure incurred amounted to [PndStlg]68,291."
The press reports "Archives New Zealand in Wellington has a file of about 600 pages of information on the Lyttelton Fuel Oil Tunnels. These previously secret files are now declassified". The project was first mooted by the Wartime Cabinet in 1942, but work only commenced in 1943. It was felt that should the Pacific war theatre push southwards, Lyttleton would need to become the southern bastion for the Allied Naval Fleet. A 12,000 ton cache of ship fuel oil was thought necessary and it needed to be safe from enemy attack.
http://www.stuff.co.nz/the-press/editors-picks/5874381/Lyttelton-exploring-its-secrets
Records showed that in 1951 and 1952 debate took place (as the US wanted to build a super highway from one end of the country to the other) over whether the tunnel-based fuel storage project should be resurrected. It appears that in the Cold War climate the Navy still believed we needed to have strategic fuel oil storage.
Discussions took place with private businesses on completing the underground storage facilities. Oil companies of the day, including Esso (Mobil today), Vacuum Oil (now part of Exxon Mobil), and BP were invited to indicate their interest.

Tunnels we were told did not exist resurface after the 2011 Christchurch earthquake.

The rail tunnel from Lyttleton was the first in the world to be dug through the side of a porous volcano geology it was the longest operating rail tunnel at one point all built in the first generation of Christchurch as Wilson's man servant 'Old Waza' the first Islamic resident in New Zealand and 17 Indian labours.

The 'Pagan's' Pay Again (we get a bit esoteric for a paragrah or two).
The website the Spin off reports "Mahomet Wuzera and Wuzera Moosleman, though most commonly he was referred to as "Old Wuzerah" (or Old Waza as I have read else were).

"Being an Indian man of an unfamiliar religion, his presence in the Canterbury Association's planned Anglican settlement was regularly noted. Wuzerah worked as a bullock driver, using his two favourite beasts, Baldy and Smuggler, to cart provisions from the Cashmere estate into town. As the Halswell Quarry was located at the western edge of the estate, there is a high probability that Old Wuzerah would have carted stone for the construction of the Christchurch Cathedral. If this is true, then the first Muslim in this country would have helped to build one of New Zealand's most enduring symbol of Christianity".
This would also be in accordance with old boys/old school tie (which Christchurch is famous for) masonic esoteric rituals that requires according to that particular legend/myth that the temples be built by pagans (non believers) and sealed by ritualistic sacrifice (including a drowning) as is the custom of mythos of the Temple of Solomon, which features on the famous American One dollar bill – another example of how true or not the myth invades western culture, as built by the Israelite king Solomon.
The reason being Solomons worshipped the old gods in secret and his patriarchial bloodline was Canan not Israelite. The Israelite having returned from Egypt and abandoned on Moses's commandment the worshiping of the golden Calf or Baal which today features most prominetly as the Bull of Wall Street. And favoured by the like of people like Jeffrey Epstein (as seen by the esoteric designs of his private island) which reflects even today how the those whose obsess about wealth and power like to dress their sickness in the over leaborate trappings of pomp and ceremony to justify possibly their over inflated ego and sense of self entitlement. Hallow spirtualism devoid of empathy and humanity rich in exploitation of their follow man.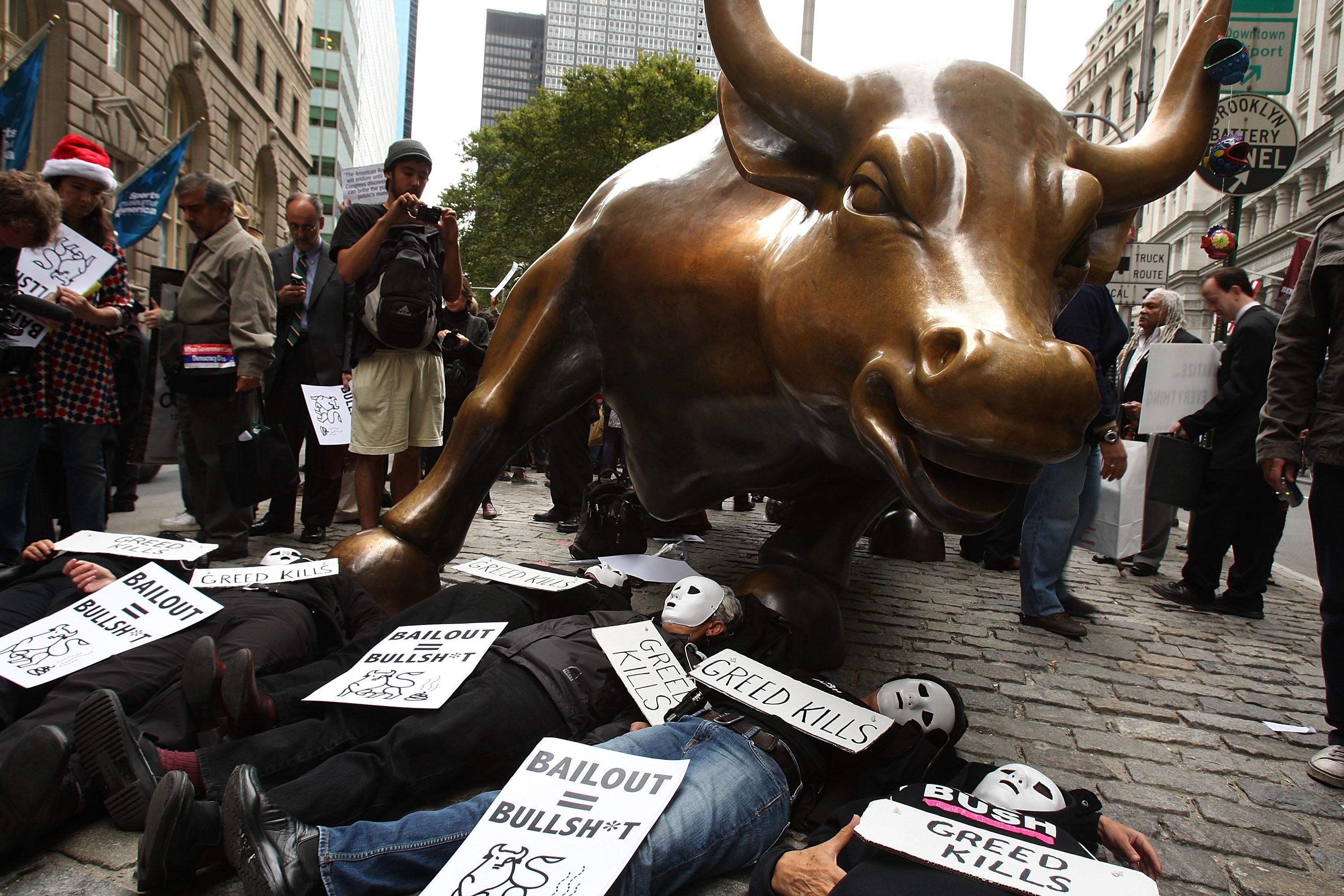 Whats Behind The Green Door.

One resident I spoke to (who clued me up to the tunnels existence) use to sneak into the tunnels along with other local kids and recalls seeing at the mansion house (located above) several trucks and bren gun carriers drive into the mansions grounds and "never come out again"
Above the entrance to Cashmere tunnels.

Below St Maragrets Hospital location of WWII tunnel entrance and were counter terrorism (and command centre) exercise was runing on day of Chch March 15th shootings.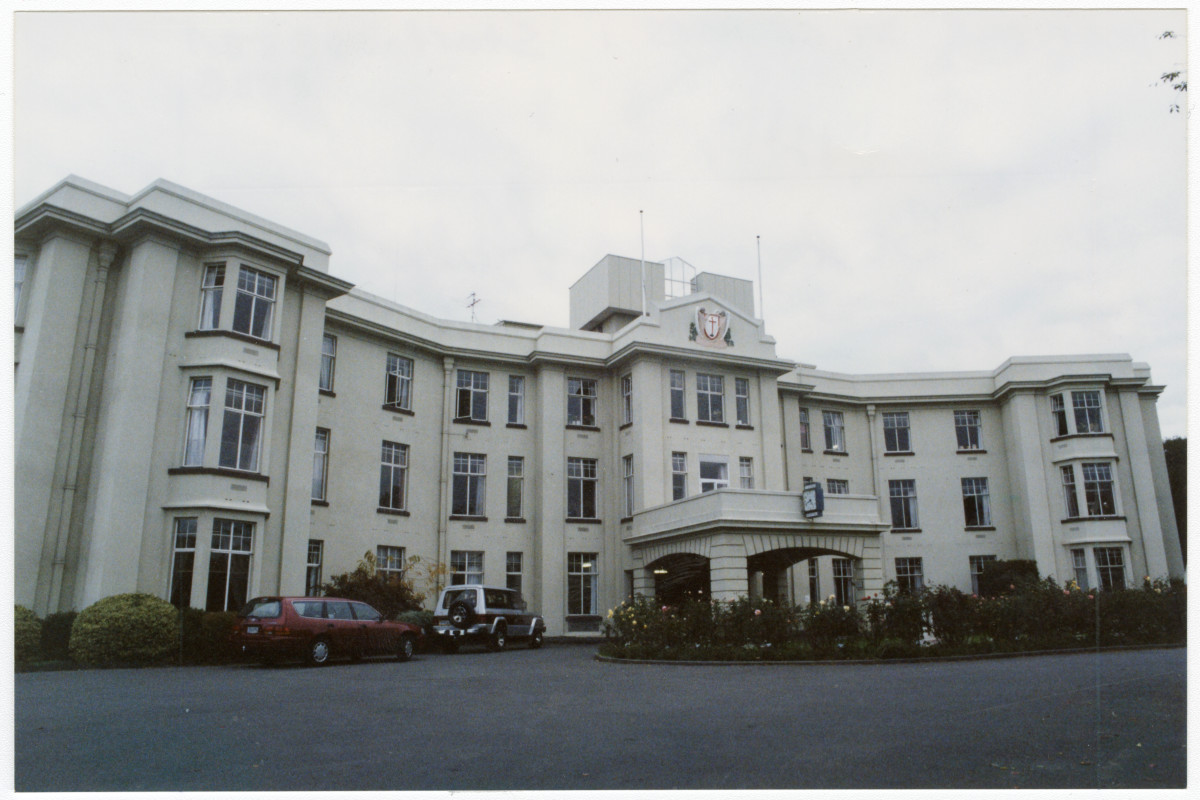 Above laser in Cashmere tunnels tied to HAARP Canterbury University.
FRIKEN SHARKS WITH LAZER BEAMS
The Gross ring facility is a purpose-built installation for the Gross Ring (G) ring laser. It is part of the Fundamentalstation Wettzell geodosy facility located in Bavaria, Germany and owned by collaborators the FGS (Forschungsgruppe Satelliengeodäsie). Prof. Ulli Schreiber is responsible for day to day management. Wettzell also supports the operation of the observatories AGGO in La Plata/Argentina and GARS O'Higgins in Antarctica (aka CERN Antartica).

Its also involved with government acknowledged geoeningeering conducted (and subject to a New Zealand government Marsden award) on the polar stern who are currently active in Artic at the time of writing. Polarstern will be prepared for the expedition in the Norwegian port of Tromsø (HAARP Norway) and is expected to depart for the Central Arctic on September 20th 2019.

https://www.maritime-executive.com/article/polarstern-departs-germany-to-ready-for-year-long-arctic-drift
The key feature of the facility is a polished granite table on which the G laser rests. This table is embedded in a 90 tonne concrete monument which demonstrated further work in the tunnels has taken place under the publics nose without anyone being aware.

The monument is attached to a massive 2.7 m diameter concrete pillar, which is founded on crystalline bedrock 10 m below the former surface (all built without anyone having realised a massive construction project was under way). A system of concrete rings and isolation materials shield the monument and pillar from lateral deformations and heat flow.
Below side view shot of the laser – note the concrete monument and pillar demonstrate further work on the tunnels has being done (and was done without public attention) and contradicts the official narative to ram the point home.

Simlar controlled open days were done at both Long Banks and the Niwa facility (whose original equipment was all painted US army Green) in Lauder Otago.

Above HOP1 HAARP Canterbury University

Below HAARP Alaska much attempt to down play its importance but cant be denied is military funed, does have a role in missile defence and mining exploration.

KICKING IN DOOR & TAKING NUMBERS

Owen Wilkes 1973 book on Project Long bank (see below) and other NZ universities military funded atmospheric research in New Zealand in the 1960's and 1970's refer to NZ military base as "geowarfare experiment." Wilkes pre internet relied on industry peroidcals and the US's government and military forces own official documentation for his reporting. Thats when he was not kicking in doors and engaging in some good old gotcha journalism and wearing out shoe leather as he exposed academi New Zealand military funding.

More on that shortly.
Above Birdling Flats

Below confirmation of another Canterbury University experiment tied to the US Navy military funded HAARP program.
Above Birdling Flat Ground zero for the first quake.

Below Anadarko survey ship one of the triangulating recievers deployed as part of the targeting system.

TANGOROA IN TRIPLICA

Below like the reptitive presence of sesmic survey ship during all our major quakes the the RV Tangoroa (previously involved in Canterbury HAARP experiment) had the uncanny luck to have Japanese scientists experimenting and monitoring the Kaikoura fault at the time of the 2016 Kaikoura quake (even ackowledging it as a means to predict quakes and find oil).

I believe the answer to this event lies in the lightening "arc bridge" conducted at Japanese universities where ground stations in the northern hemisphere [Kodiak Alaska Rocket Lab USA and Tomo Norway), stimulate the upper atmopshere plasma field (targeted and identified via multispectrum cammera on satelite and shuttles) and those fields are then relayed to the southern hemisphere via the HAARP SuperDARN signals at Scott Amundsen Antartica relayed through the US Navy SPAWAR (Space Warfare) Marisat GOES system to universities such and University of Penslyvania a US defence funded strategic partner who work with Canterbury University and were exposed twice for their military cnnection to MT John Observatories.

THE ROAD TO ASGARD
Once by Owen Wilkes who literally kicked in the door and photographed the US Air Force secret room located in the civilian facility at Tekapo in the 1970's and in 1980's.

Canterbury University magazine busted MT John's defence connection a second time in the 1980's.

The transmitted plasma energy of the 'arc bridges' discharges in the Southern hemisphere as lightening strikes or plasma bollides that charge the waves and cause a form of fracking into the alpine fault which in turn unsettles built up canyon wall sediment which collapses and cause further sesmic and wave energy.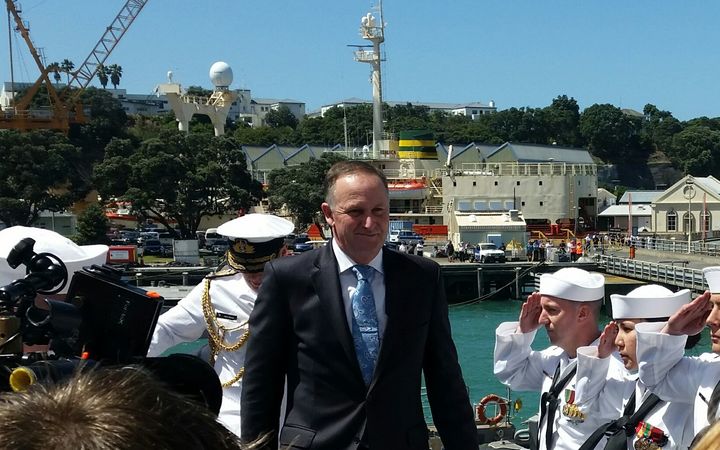 Above John Key Above the USS Samson notice the Survey ship (and golf ball) in the background.
Below USS Sampson and Antenna Ray about twice the size of most frigates.
As we welcome in a US Warship (spitting on the spirit of nuclear free (the Sampson's arsenal at the very least include 95 uranium tipped tomahawk missiles (below) built to be fitted with nuclear warhead very quickly) Lockheed Martin Executive settle in for the utimate weapons display as Exercise ("common unconventional threats") Mahi Tangoroa begins.
US FEMA & Ministry of Civil Defence cordinate communication during the year long exercise Tangoroa which ends the day before the Kaikoura Earthquake.

Exercise Mahi Tangaroa '16 aimed to promote cooperation and interoperability amongst the ADMM-Plus member countries in addressing global "common non-traditional security threats".
THAT WAS THEN THIS IS NOW BEFORE & AFTER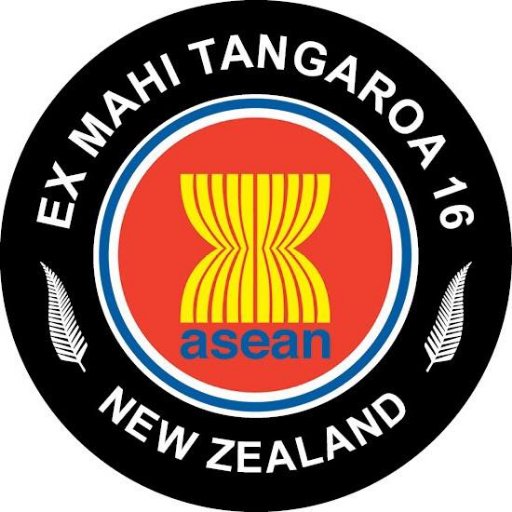 http://nzetc.victoria.ac.nz/tm/scholarly/tei-Salient34151971-t1-body-d15.html
My earlier report on rocket lab.
https://www.youtube.com/watch?v=K8t56OowOB0&t=363s
KNOW YOUR HISTORY TO KNOW THE FUTURE.
Below Project Seal WWII – NZ's first super weapon geowarfare project. The chief scientist Profesor Thomas Leech went on to head after WWII The Australian Snowy Mountain Hydro Scheme – this later emerged as the front for Australia's short lived nuclear weapons project and today the Snowy Mt Engineering firm who are involved in geo-engineering and snow dam water storage research. The Snowy Mountain project also sure the construction of tunnels which reach nder Canberra and house the Australian government's emergency government shelter complex which is said to be massive. The Scheme consists of sixteen major dams; seven power stations; one pumping station; and 225 kilometres (140 mi) of tunnels (at least).



https://www.youtube.com/watch?v=B8ugs2FN8zo&feature=youtu.be&fbclid=IwAR1p1WgpwGRI5nZuxwzQRzyTLahcnxZJ_VaQpDKK6o5klBKutSLDwx-qTFE

We try to get you independent, politically non aligned news.
That's takes time, it take energy. If you value my efforts give a little.
Pay 060901063281400 ANZ Moray Ben Vidgen t/a DEADLINE
DONATION of $50.OO include annual subscription for Ben's NZ Magazine and two issues of DEADLINE includes postage any where in New Zealand.