Ben Vidge DEADLINE Gazette.
Those wondering about seeing military helicopters flying over Whanganui tonight your not imagining things. Your witnessing Exercise Black Diamond 19. This is the precursor to Exercise Sari Bair 19 which takes pace in September, in which "all Army units will gather for a combined arms training exercise in the central North Island".
Multiple units from the New Zealand, United States Army, US Marines, Australian and British armies, converged on the military training area in Waiouru for Exercise Black Diamond (about 100 troops).

The senior exercise is named after the Battle of Sari Bair (Turkish: Sarı Bayır Harekâtı), also known as the August Offensive (peak season for operation in the Middle East).

It is general mid level war prepration exercise which is part of the endurance training armies uder take when preparing for an offensive style operation. If the American component is any thing to go by were training for a recon role (spear tip) for a large amphibous based force e.g American component are Marines and serving in role such as naval gunner F.O. (Forward Observers).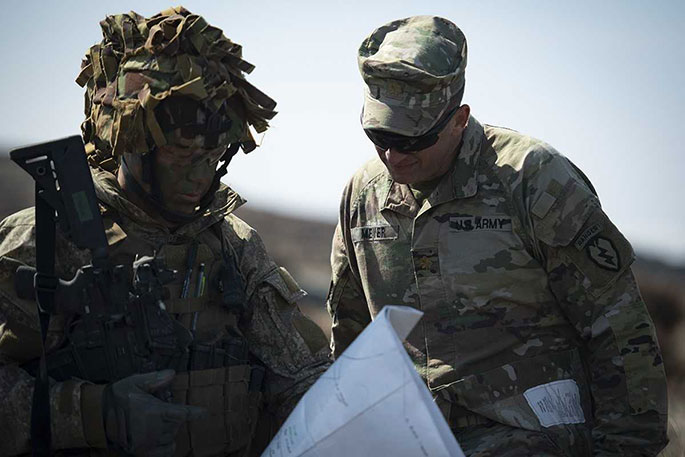 https://www.marines.mil/News/Marines-TV?videoid=630252&dvpTag=ANGLICO
Its a fairly regular exercise. In that we have being increasingly being doing more and more training with the yanks since 2011 – where at Waiouru the same US Marine (around 300 troops) now winter over permanently.

The more concerning part is when you look at last years exercise (photos from Sari Bair 2018) "Soldiers began moving into the town under cover of darkness last night, and people can expect to see soldiers, in uniform with military weapons and military vehicles, on their streets….the army needed a built-up area to extend its training, and Whanganui was chosen".
That indicates counter insurgency (civilians) or occupational forces. A look at last year photos of Exercise Sari Bair 19 depicts a force dealing in urban areas or conducting crowd control exercises with civilans.