And before you comment watch the video (Daily Mail UK).
Your time will come assholes.
Mayor declares 3 men in custody.

I heard the shots but I thought they were hits, like roof construction,' said Adriana Quezada, 39 (Daily Mail Video above), who was in Walmart with in the women's clothing section with her two children.
She said she saw four men, dressed in black, wearing shirts, moved together firing guns indiscriminately.
'I saw four men, shooting everywhere,' Quezada said.
Police confirm numerous time multile gun men.

"El Paso Police Department Sgt. Robert Gomez told reporters; officials had earlier said that witnesses reported seeing a pair of gunmen.

https://nypost.com/2019/08/03/authorities-responding-to-possible-active-shooter-in-texas-walmart/

Some will go NO way.
Some believe what they wish to.
They selectively recall certain events while other allowed to fade away as if they never occured or were seen at all.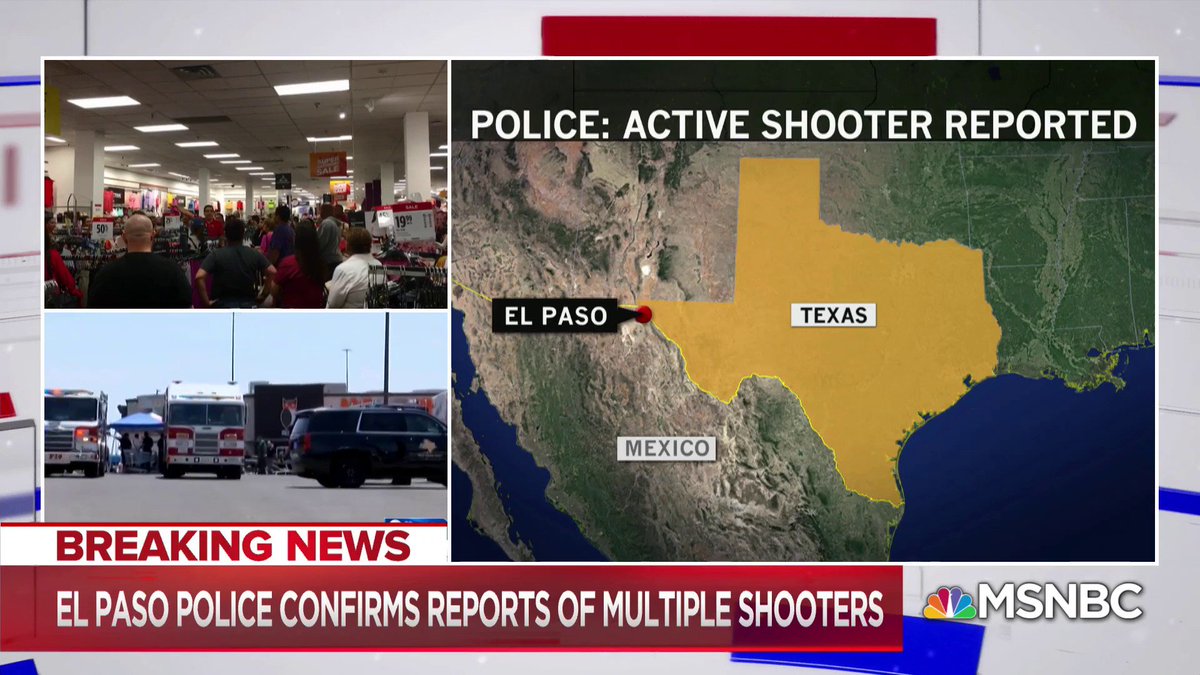 Some people have either forgotten, or are unaware, of the series of
truly sinister crap that took place in the US military industrial complex during the 1970's during the Vietam War and 1980's under Regan. Conducted by people still around in Washington today. And no this is not about taking gun away perse if you want the real reason go and take a look at;

https://en.wikipedia.org/wiki/Family_Jewels_(Central_Intelligence_Agency)
https://en.wikipedia.org/wiki/Targeted_killing
https://www.nytimes.com/2011/05/05/opinion/rasenberger.html
A) The shit unfolding in Washington.
B) The share prices of small arms and small arms sales in the US this week.
Which will if they are like any other shooting be at around 1000% from their usal levels.
https://www.americanrifleman.org/articles/2019/7/10/fear-loading-gun-sales-up-for-second-month-in-a-row/

https://www.msnbc.com/msnbc/watch/breaking-active-shooter-situation-in-el-paso-tx-have-reports-of-multiple-shooters-65258565695
The headquarters for the El Paso Intelligence Center, a federal tactical operational intelligence center, is hosted at Fort Bliss. Its DoD (United States Department of Defense) counterpart, Joint Task Force North, is at Biggs Army Airfield. Biggs Field, a military airport located at Fort Bliss, is designated a military power projection platform
The El Paso Intelligence Center (EPIC) was established in 1974 in response to a study by the Justice Management Division of the U.S. Department of Justice entitled, "A Secure Border." Recommendation number 7 of this study suggested the establishment of a southwest border intelligence center to be led by the Drug Enforcement Administration (DEA) and staffed by representatives of that agency, as well as the U.S. Customs Service. The initial focus of the Center was to assist in the identification of drug traffickers and alien traffickers along the U.S.-Mexico border. EPIC is now staffed with over 300 personnel and liaison officers from 15 agencies.
The current EPIC facility was dedicated on 22 February 1989 in memory of DEA Special Agent Enrique Camarena-Salazar who was slain in the line of duty while conducting an undercover operation in Mexico.

Enrique Carmareena was tortured and executed by cartel member's allied with rogue intelligence operator Colonel Oliver North (Iran Contra), who tried to at first make out that Enrique was a drug dealer until the truth and scale of North's lie became apparent in the very very supressed and manipulated Congressional Investigation and subsequent Towers Commision. Which however still conceeded wrong doing of the player ike Colonel Oliver North the CIA and the CIA's financing of far right hit squads.

https://baltimorepostexaminer.com/dea-agent-enrique-kiki-camarena-case-not-forgotten/2016/08/05

In a July 12, 1985 entry, North noted a call from retired Air Force General Richard Secord in which the two discussed a Honduran arms warehouse from which the Contras planned to purchase weapons. The Contras did eventually buy the arms, using money the Reagan administration secretly raised from Saudi Arabia. According to the notebook, Secord told North that "14 M [million] to finance the arms in the warehouse came from drugs."

Expanded in 1998-1999, EPIC headquarters lies within Biggs Army Airfield at Fort Blissmilitary reservation in El Paso, Texas and is run jointly by the DEA and U.S. Customs and Border Protection (CBP), part of the Department of Homeland Security (DHS). In the pre-DHS era, the three main federal agencies at EPIC were DEA, the Immigration and Naturalization Service (INS) and the U.S. Customs Service.