BABA YAGA SEES ALL
Two weeks ago, ahead of hail storms and expected January flooding, Rocket Lab launched its 96th mission from Mahia Peninsular New Zealand.
The mission was named 'The Owl's Night Begins' in a nod to Synspective's StriX family of synthetic aperture radar (SAR) spacecraft developed to be able to image millimetre-level changes to the Earth's surface from space, independent of weather conditions on Earth and at any time of the day or night.
In mythology Strix was a creature or witch of ancient Roman mythology, a bird of ill omen, the product of metamorphosis, that fed on human flesh and blood and was the enemy of human civilization, particularly women and children. In Eastern European mythology the Strix is known as Baba Yaga the stealer of children. The Strix was feared in ancient times for their association with famine and plagues.

These Roman 'witches' were the original vampires. In their bird form, the Strix offered their breast to babies and fed them poisoned milk. They were thought to be a precedent for the famous Slavic folkloric witch Baba Yaga, Less monstrously the Strix genus (its Latin name) is that of the "earless" keen eyed wood-owls.
In Night Owls case its name refers to the technology used by its pay load known as SAR or Synthetic Aperture Radar.
SAR is basically same technology used in phase one of the USA's controversial Pentagon DARPA funded HAARP program which was used for looking for minerals, deep under ground bunkers and for tsunami modelling and forecasting.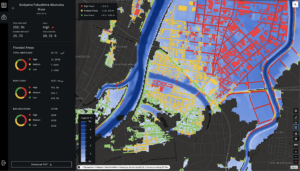 The Night Owl satellite will be the first in Synspective's Corps planned 'StriX' constellation of around 25 SAR satellites designed to provide geospatial solutions. That is "new data" to "oversee human-beings economic activity." Understanding the data "to get information accurately and quickly".
I noted back in January 6th as Rocket Lab launched 'Make It Rain' the geoengineering focus technology cited in the the article 'Orissa Cyclone — Role of Space Systems in Disaster Warnings and Mitigation Use of INSAT'. Where it was reported that the "Super-cyclone" that hit the Orissa coast on Saturday, October 29, 1999 was tracked by the India Meteorological Department (IMD) through INSAT-1D Very High Resolution Radiometer (VHRR) imagery and INSAT-2E CHARGED COUPLE DEVICE (CCD), which like Auckland University of Technology's Quake Tek (just one of Rocket Lab's geo-engineering affiliated clients) was launched by Rocket Lab in 2019 to help "societal needs" INSAT looked at the interactive relationship held between the ionosphere electromagnetic field and the earth. During Orissa Remote Sensing satellites and the microwave data from the Canadian RADARSAT were used for disaster relief and rescue operations.

POISONED BABIES MILK.
The Geospatial mapping however was also used by India for planning post disaster agriculture and food production. For example this included the distribution of GM modified salt tolerant seed by Bayer Pharmaceuticals by UN approved agencies CARE India and Oxfam. Similar disasters caused food shortages (and famine related disease) in Africa and the Philippines after extreme weather events were exploited and used to dump genetically modified seeds owned and patented by UN corporate strategic partners Monsanto (now owned by Bayer).

Like Five Eyes members NZ USA, UK, Australia, Canada, India underwent extensive geospatial mapping during lock down which in India case was carried out by a firm named Kiwi Air.
The core technology of Night Owl was developed by the ImPACT program led by The Cabinet Office, Government of Japan. The program's full name is Impulsing Paradigm Change through Disruptive Technologies Program (ImPACT). It focuses on "high-risk and high-impact initiatives". Its inspiration is the US defence research agency DARPA.
Thus The Owl is not just a surveillance tool as its corporate press release state but its also a component useful for those with a focus on economic warfare and food monopolisation.