Three close calls at the Tiwai toxic waste stored at Mataura (and else where) has, in electorate with a tight margin and a host of unhappy voters upset by the three near misses including a fire at the mill in August, the potential to become a 2020 election issue.
In February 2020 New Zealand First list MP Mark Patterson, urged the Government to speed up the removal of Ouvea premix, a class six class nine and class four hazardous substance, from the township. Mr Patterson launched a petition. New Zealand First list MP Mark Patterson, which urged the Government to speed up the removal of Ouvea premix, a class six hazardous substance, from the township.Patterson said the committee's recommendation was ''emphatic'' and it was pleasing that it had decided to hand the issue over to the next Government. "It would be nice to think we could have a resolution to the issue by then, but I'm a realist,'' he said.

The Ouvea premix, a class six and class four hazardous substance (though local press continue to call it only a class six in attempt to down play the risk the public face) , was left in warehouses in Southland after Taha Asia Pacific, which was storing the substance without resource consent at Mataura, Awarua, and down town Invercargill, went into liquidation in 2016.
Its located in electorate who in 2020 was part of 62,000 people across the South Island will switch electorates following a redrawing of the boundaries for the 2020 election. Dunedin North becomes Dunedin; Dunedin South becomes Taieri; and Clutha-Southland becomes Southland. New Zealand First list MP Mark Patterson will stand in the Taieri electorate in September's general election. The Lawrence-based farmer stood in Clutha-Southland in 2017, the first time New Zealand First had fielded a candidate in the electorate since 2005.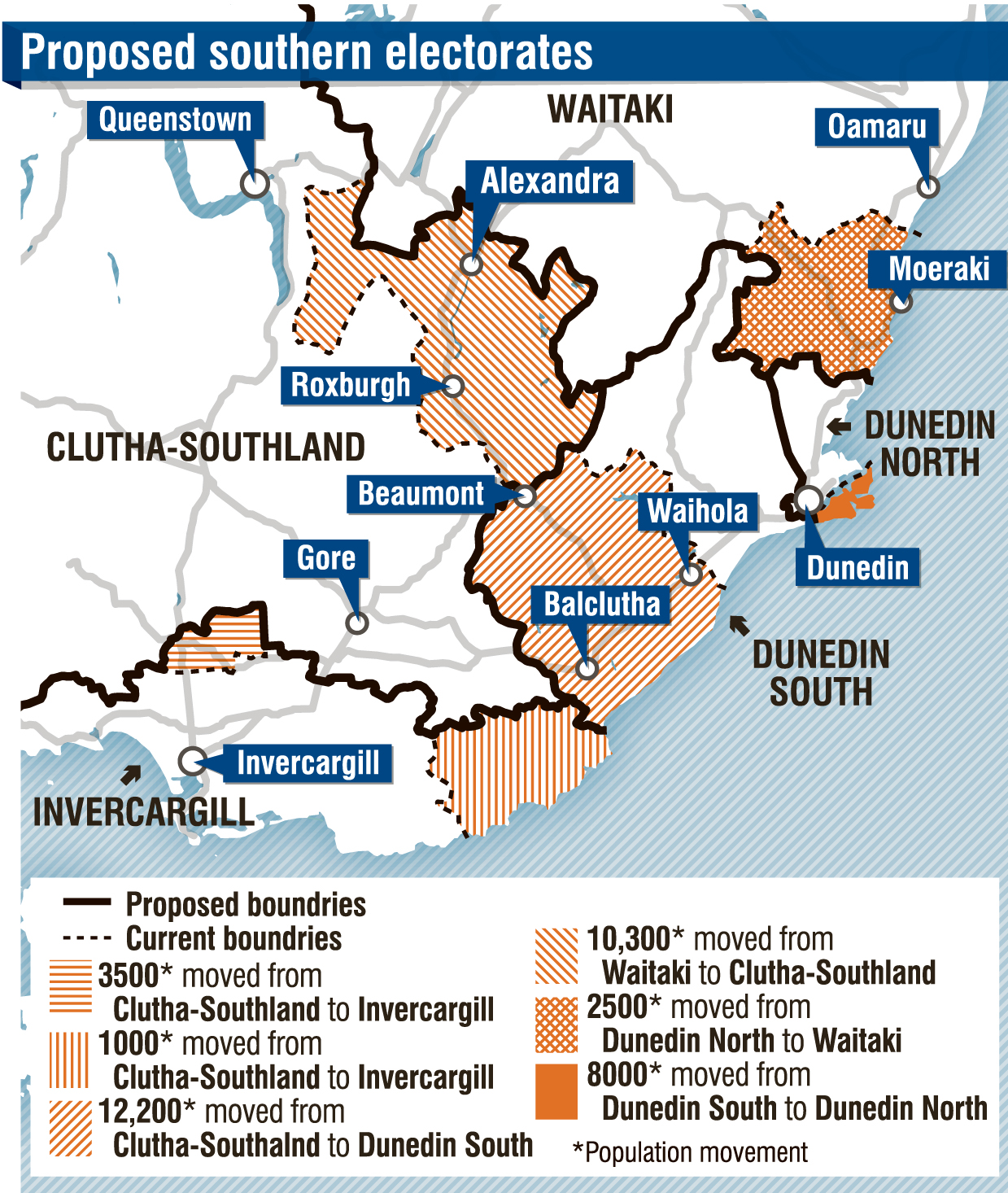 The boundary changes meant he now lived in the Taieri seat, and Mr Patterson said after much thought he had decided to stand in that electorate. "I am delighted to have received the nomination to stand in Taieri and look forward to highlighting New Zealand First's strong influence in the electorate," he said.
New Zealand First has had mixed fortunes in the former Dunedin South seat: its party votes have been as low as 758 (1999) and as high as 3429 in 2014. In a seat with one of the oldest demographics in New Zealand, Mr Patterson will campaign strongly on his party's support for seniors and local community concerns.
"I am delighted the Provincial Growth Fund has set about revitalising the Hillside railway workshops and on the way to returning them to back to being the beating heart of South Dunedin," Mr Patterson said. Historically, Dunedin South has been a safe electorate for Labour, although it has twice lost the party vote in recent times. With the retirement of sitting MP Clare Curran, National candidate Liam Kernaghan has hopes of causing an upset, although Labour candidate Ingrid Leary will be determined to try and maintain the seat's for Labour.
Another local issue Patterson has also shown interest in is the toxic Ouvea in Mataura.
And yet in the same breath New Zealand First is also trying to catch the pro Tiwai vote as will.
New Zealand First leader Winston Peters stated, if his party was in Government after the election, it would commit to getting a 20-year agreement in place with Rio Tinto with a review at 10 years. The situation is replicated in Northland where Marsden Refinery faces closure and New Zealand First hope to win a much needed marginal seat, using combination of the fear of job loss and the pork barrelling of provincial funding paid for by the billions borrowed for infrastructure, to get back into parliament.

Populist party NZ First has proved happy to woo social activist, Such as NZ First promises to stop the use of 1080 and prevent the TPPA ISSD clause (which permits corporation to put profit above public safety e.g. the right to advertise tobacco). However when elected NZ Fist has a poor history of honouring its pledges to social causes.
The current August Ray Morgan poll list NZ First at 2.5 to get back in they need 5% or to win an electoral seat (UMP 12 Aug 2020 NZF 5.1).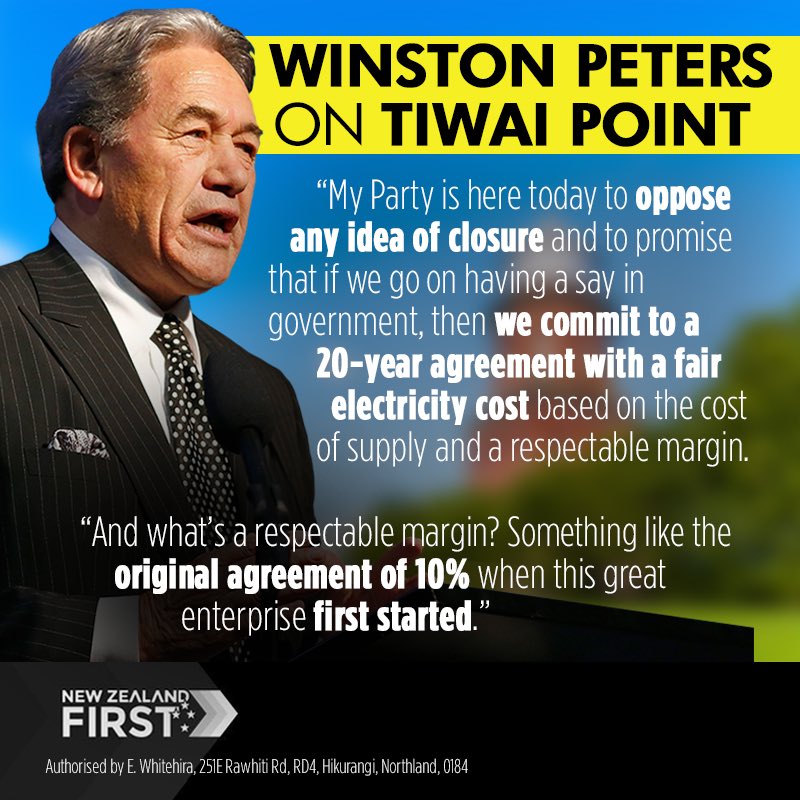 Meanwhile all the parties continue to only recognise a class six hazarded stored at Mataura. This is despite archive documentation identifying class four and class nine hazards as also being present.
Like wise publicity only focus only on Mataura and not the other sites in Invercargill where at less another 30,000 tonnes is stored, not counting what is located at Tiwai itself.
The undermining of the full dangers posed is a task the politicians are getting assisted from in the form of local media repeatedly downplaying the danger.
FAKE NEWS MEDIA TRY TO SELL OUVEA AS NOT A FLAMMABLE RISK.
Rachel Kelly of the Southland Times for example stated in her article titled 'Mataura's hazardous substance differs from Beirut fertiliser'; "The hazardous substance being stored at Mataura is not the same as the fertiliser thought to have caused the explosion in Beirut, WorkSafe says. The Ouvea premix being stored in warehouses at Mataura and Awarua does not contain ammonium nitrate, or fertiliser, the substance that exploded in Beirut on Wednesday, a spokesperson said. 'The Ouvea premix stored at various locations around Southland does not contain ammonium nitrate'. You may have heard this interview on Radio New Zealand's Morning Report today in which the chair of the New Zealand Fertiliser Quality Council, Anders Crofoot, said ammonium nitrate was not commonly used in New Zealand, and is 'very tightly controlled', the spokesperson said. 'Ouvea premix, when wet, gives off ammonia gas. This is different to ammonium nitrate which, if heated gives off nitrogen oxides".
THIRTY METRES FROM THE HIGHLY EXPLOSIVE OUVEA.
'Strong smell of chemicals coming from former paper mill' Journalist headline get changed to 'Fire bosses say no risk of fire getting to 'premix' at old mill.'
Kelly's reporting and the above local headline makes out like their is little risk. However it can be instantly countered by Professor Allan Blackman, School of Science at Auckland University of Technology told News Hub reporters he also has concerns about heat produced from the reaction when ammonia is made. This is because heat aids in the formation of hydrogen gas and could cause a potential explosion". But Stated this will only happen if "large enough quantities of hydrogen are generated". One of the reason Ouvea should not gets wet is it releases not just ammonia but hydrogen as will.
Further associate Professor Sally Gaw and Professor Brett Robinson, School of Physical and Chemical Sciences, University of Canterbury, states "The reaction of Ouvea with water will slowly produce ammonia gas and aluminium hydroxide. In a worst case scenario, the heat released by the reaction with water could generate a fire at the plant as well as releasing ammonia gas. The actual impacts will depend on how much of the Ouvea comes into contact with water."

As for plain old ammonia's fire risk?

The Canadian Centre for Occupational Safety reports; "There is a widespread belief in North America that ammonia does not burn," says the warning from the center. "This perception probably arises from North American transport regulations which classify anhydrous ammonia as "a non-flammable" gas." In Europe, the centre notes, ammonia is classified as flammable. CCOHS scientific staff learned there is a history of violent ammonia-air explosions in poorly maintained facilities located in uninhabited buildings, stored in inadequately ventilated confined spaces. In these explosions, an ammonia leak occurred and the lower explosive limit of a 15 percent concentration of ammonia was reached in the confined space. The air-gas mixture was ignited explosively by an ignition sources such as a spark from a motor or the heat of a welding or cutting torch.
In one case, CCOHS notes factors contributing to the explosion were the formation of a "flammable mixture of ammonia and air and the fire fighters lack of awareness that an explosion hazard existed".
Taha Fertilizer Industries Limited own consent documents also notes other chemicals are or where located in Mataura that would further enhance the heat and thus the level of combustibility potentially caused by the Ouvea fertilise premix.
For starters you have 350 kg Citric Acid Powdered Crystals packed in 25kg woven mesh bags. The consent documents reports of the acid;

"Hazards from combustion products: On burning toxic fumes may develop including
oxides of carbon. Autoignition temperature: 1011°C. As with most organic solids, fire
is possible at elevated temperatures or by contact with an ignition source. Fine dust
dispersed in air in sufficient concentrations, and in the presence of an ignition source
is a potential dust explosion hazard."

Then there is 100 tonnes of Diesel Liquid 100 litres and 20 litre diesel drums also stored which again will add to the Ouvea combustibility. (while Ouvea stored at Liddle Steet and Bond Street on the edge of Invercargils CBD are surrounded by warehouses full of combustible goods and chemicals)
The Ouvea Premix is itself made up of approximately 30% aluminium oxide, 30% aluminium nitride and 30% magnesium aluminate.

All aluminium oxides are commonly recognised a fire danger. The Taha consent it self report of "Metal nitrates (potentially explosive reaction)".

Aluminium nitride in fact has the ability to produce the dreaded Beirut ammonia nitrate, as a by product, as it synthesised by the carbon-thermal reduction of aluminium oxide in the presence of gaseous nitrogen or ammonia.
So no the ammonia nitrate based fertiliser used in Beirut (called Prill) is not Ouvea. On this Rachel Kelly is correct.

The point however is irrelevant as they both share a lot of the same combustible ingredients including aluminium oxides. Plus other components in the Ouvea including aluminium fines, sodium and calcium salts, and other trace metals, all which have a combustion point ability to generate heat. Heat which helps fuel the Hydrogen Professors Allan Blackman,Gaw and Robinson, dread and list as a needed catalyst for Ouvea to explode.

Also stored in buildings, adding more fuel, are old storage tanks that are also noted as concern in the Gore Council report.

Yet it is the Ouvea magnesium aluminium that has the means to make Ouvea every bit as explosive as the Ammonia nitrate that levelled Beirut water front (see video for demonstration of magnesium aluminium volatility) . And bear in mind Beirut had 2700 tonnes of an ammonia based fertiliser mix. While Mataura has 10,000 Invercargill 30,000 and Tiwai has much much more than that.
Combustion of individual aluminum-magnesium alloy particles in the flame of an oxidizer-fuel mixture (1971) volume 7,
states of magnesium (which like nitrates are used in making explosives) aluminium;
"1. The ignition lag and combustion mechanism of metal particles have been investigated with reference to the nature and the location of the tracks formed when the particles burn in the flame of a model composite oxidizer — fuel system.
2.Alloys containing 30–45% aluminum and 55–70% magnesium constitute a modified aluminum-based fuel effective from the standpoint of completeness of combustion.
3.The combustion characteristics of the metal component are determined by the nature of the metals it contains: permeability of the oxide film, reactivity, surface activity, volatility, melting point change of density on melting, and heat of combustion."

The explosive nature of Aluminium Magnesium dust is further highlighted in 'Aluminum/Magnesium Metal Dust Explosion at Bicycle Factory in Changhua County, Taiwan', On May 2, 2018 the Asia Times reported an Aluminum and Magnesium metal dust explosion in Changhua County, Taiwan. The explosion was reported to have occurred at a bike parts manufacturing facility. Aluminium and magnesium powder accumulated in a 10 square meter area in the facility and was ignited by a spark which caused the explosion. Ten workers were injured in the metal dust explosion ranging from moderate to severe burns. Five of the workers are in severe or critical condition suffering burns between 30 and 100 percent of their bodies.

Then there is the issue of Rachel Kelly saying the Ouvea, which actually is a brand name not the substance actual chemical structure, "is not a fertiliser".
Because that is
A; Exactly what the Ouvea has being repeatedly marketed and green washed to the public as and used repeatedly to claim it was not toxic dross.

B; Further in September 2018 Kelly herself calls the Ouvea premixed as a substance "to be used in making fertiliser".

Withstanding Ouvea is not just class six, as Rachel Kelly keeps glossing over, but also class four and class nine, which requires by law much more stringent safety protective measures. Its Class four status being highlighted by Hamish McCullum, previously of Taha, at the meeting in Matauru which Kelly covered herself and is also declared class four in the original Gore Council consent submission report appendix and class none through out the report.

Kelly's articles also down played risk of ammonia as a cancer inducing substance common not just to Ouvea but to fertilises in general. Something which NZ Agribusiness is not keen to advertise but is becoming a growing concern as we begin to comprehend the impact of nitrate producing fertilisers, common to New Zealand farming, on water ways and the public's general health.

Politicians must now decide what more important the profits offered by big business or the public's right not be poisoned. Being an election year this is a good time for the people to remind their local MP's who it is they depend on if they wish to get elected.