The New Zealand Initiative (formerly the Business Round table) led by Oligarchical Stephen Jennings whose kudos include helping finance John Keys 2008 election win, plunder perestroika Russia for Foreign Investors, and Smart Cities in Africa where and other developers have being accused of using abusing infrastructure investment to privatise entire nations, is now looking to the TPPA to ensure it gets it way in a post COVID 19 world.

NZI believe their vision of "Fortress NZ", Jennings buzzword for a Switzerland for the super rich, should proceed and the TPPA is the means to enforce that vision.
Below is abstract from the Initiative NZ its their recent review of the COVID 19 it high lights why the TPPA remain an important issue and will be shaping political parties post elections directions
Abstract RESEARCH NOTE Reinforcing New Zealand's trade relationships after Covid-19 Nathan Smith with assistance from Bryce Wilkinson 30 April 2020
"However, some New Zealand politicians, trade experts and economists have suggested New Zealand take the crisis as a warning sign that overreliance on free trade with China and other countries makes Kiwi businesses more vulnerable to shocks. Yet New Zealand's hard-won and deep free trade agreements (FTA) with an open world trading system will be a key factor in resolving the coming economic downturn, along with its close ties to East Asia's largest market economies of China and Japan.
New Zealand should not retreat into outmoded interventionist responses. The Government's best long-term bet is to support, not undermine, the liberal open trading system and continue with
domestic policy measures consistent with that. But this leadership vacuum creates uncertainty about what responses are legitimate in a global crisis.
Even the New Zealand Government's decision to lock the country down and stop all international flights may be legally precarious.
After all, some of New Zealand's FTAs have delicate provisions on the four freedoms of movement: people, capital, services and investment. New Zealand risks falling foul of other trade provisions if the Government intervenes in other ways.
Another legal uncertainty exposed by the Covid-19 crisis was the possible human rights overlap with refugee law about who can and cannot move because of the lockdowns in destination countries.
The pause in air travel also impacts New Zealand's agreements on international air transport protocols and codes. On top of that, how to deal with intellectual property and data governance during a crisis is now a fresh problem most countries have no method to deal with.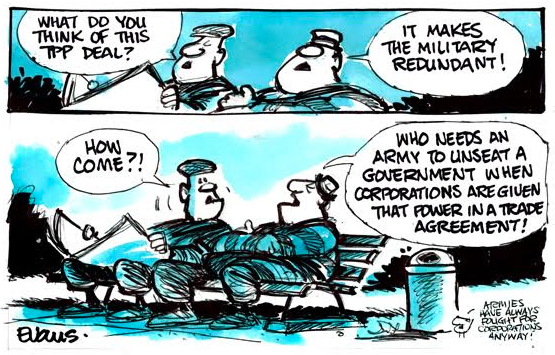 New Zealand also faces speedbumps when exiting its lockdown protocols. It will want to relax travel restrictions and other crisis measures, but this can't be done without international cooperation on deciding what it means to be a "safe person." Further, it is unclear what an "viral passport" might look like, or what guarantees a Kiwi should expect when travelling and if they can be repatriated when something goes wrong overseas".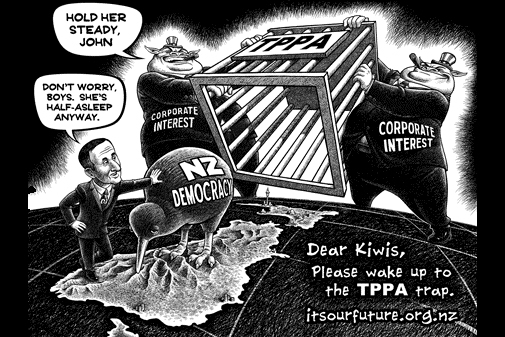 SEE ALSO WILL THAT WAS PREDICTABLE. AVALANCHE OF TPPA CORPORATE LAW SUITS EXPECTED POST COVID 19 May 2020
SEE ALSO Potential ISDS Problems Post Covid-19 Monday, 29 June 2020, 12:41 pm Press Release: 

see also 3min nearly 5000 view in first 24 hours of being posted.