And the latest in our part of New Zealand's war on our culture of hunter gathering and self sufficiency is the move to slowly prohibit the collecting of seaweed (yes you heard right) off the beaches (already prohibited in area near Kaikoura). All part of an increasingly ramped up war on New Zealand's culture of being hunter gathers, food forages and beach combers.
Part of me glad my mum left this planet before the ban on seaweed became a full ban as it will do undoubtedly given time.

Seaweed is a food source, a natural medicine and fertiliser good for your garden. Seaweed was something mum has being passionate about for decades and she used it as the core of her sculpture, as an art supply for her quirky seaweed figures (photo below) and her massive gardens.
On the other hand had she being still around to witness this Orwellian creep that is cutting kiwis off from having a relationship with nature under the pretext of conservation I know she would have happily flouted the law.

She would have seen through it as policy not about conservation but as a control tool aimed at giving a monopoly to those who talk green as their eyes remain fixed on increasing their market share. As this years Davos demonstrates when over 1500 private jets owned by the planets rich listers hypocritically turned up to discuss climate talks and what they should do about it.
The chef speakers at Davos were the usal suspect billionaires, big pharma and its cousins in the growing global food and water monoply business.
The big names who are listed as the strategic partner of the United Nations (IMF/Word Bank enforced) Agenda 2030 sustainability program which was signed on by the Canterbury Regional Council for Kaikoura a month before the 2016 Kaikoura earthquakes.

A quake which began with a rebuild that locals welcomed until they realised the highway was being designed in a way that cut them off from their traditional food source and way of life.
A nationwide phenomenon thrust upon us kiwi by the corporate controlled political parties and the corporate iwis who put profit before the needs of local communities and hapu.
My mum was a hippy from way back when being green was not cool. She would have flouted the current march to over centralised over controlled government as just dumb. Just another way of pushing us into a prison culture, serving neo-liberal economic agendas, where we are no longer allowed to take responsibility for our own actions or own communities and our own lives and we become the mere dumb obedient cattle of the state and the narcissist elite. Those with a deluded sense of self entitlement, who believe they and they alone have the right to fly around in private jets preaching the need for austerity and a reduced ecological foot print to the peasants.

Those whose style of leadership is an insult to genuine environmentalism and can be summed up by the single sentence mantra 'Do as we say not as we do'.
Because of my mum I grew up in a house hold were our bible was the Whole Earth Catalogue. The Whole Earth, a giant door stopper of a book, chock full of practical ways you could save the planet. Its goal was simple to give each and every one of us "access to tools" so we could change the world by first being responsible for our own lives.

As we march at an ever increasing pace towards the very future forecast in such books as Arthur Kostlers 'The Call Girls', Alvin Tofflers 'Future Shock', Aldor Huxley Brave New World, Orwell's Animal Farm, 1984, plus the works of Buckminster Fuller, I cant help notice the so called Corporate backed UN sustainability strategy to get the human race to stop confusing it needs from its wants is devoid of three core points;
1. The need to transform our socioeconomic model from "weaponry to livingry".

Fact is the entire model driving the UN current sustainability strategy is ramping that sociopath model up as opposing to wiping it out.

The UN food model seeks to wage war on the poor to create a food water monopoly in which GM foods, heavily dipped in toxic pesticides, are your only food options as the price of organic will rich beyond most people budgets and sourcing your own food becomes a legislative nightmare. A doctrine of economic (and lets face it racist) apartheid.
2. Meanwhile mining and defence companies like Lockheed Martin and their subsidiaries (as in Lockheed Martin Rocket Lab (located in Mahia New Zealand) interested in those very same 'green technology' are circling NZ like sharks.

A move which comes as the drive for "sustainable" smart technology and electric vehicles is fuelling the growth of next generation smart weapons an new empire of riches.
"Demand for green energy technologies—and corresponding demand for the materials needed to build, transport and install these technologies—is predicted to increase dramatically in the years and decades ahead. In a recent report, the World Bank estimated that demand for the minerals required for solar panels—including copper, iron, lead, molybdenum, nickel and zinc—could increase by 300 per cent through 2050 should the international community stay on track to meet its 2°C goal (Arrobas et al., 2017). Similarly, demand for minerals like cobalt, lithium and rare earths1 is expected to grow at unprecedented rates due to their strategic role in the production of wind turbines, electric vehicles (EVs) and energy storage".
These are the minerals fuelling wars and these are the minerals which next generation weapons will be built from.

Were not dealing with the benevolent Federated Planet, seeking to bring peace to all. Were dealing with blood lusted Klingons armed with spin doctors and social engineers who seek to wage war on the poor. Far from being forward thinking their approach is barbaric. Unsophisticated in comparison to the solution that have being forward by so many past deep thinkers and recognised intellect whose input these dollar fixated buffoon have simply ignored.
3. Instead they are selling a strategy which simply swaps fossil fuels for mined minerals. So once more we are relying on scarce products with a finite limit that continue to drive the laws of supply and demand. A doctrine which attempts to indoctrinate the deeply flawed lie of 18th century Malthusian economics. One which preach humans are outgrowing the planets resources.

Balderdash we have (as Buckminster Fuller long ago proved was "faliscious") humanity has ample resources. It has the means to provide quality of life for five time the global populace in a genuinely sustainable manner with minimum ecological impact. If only the worlds resources were distributed in manner were every one got a fair deal and not just the wealthy few who preach 'do as we say not as we do'.

(R. Buckminster Fuller and Systems Theory)
Royal Family: From costs to carbon, how do they travel? George Bowden BBC News 25 August 2019
The Paradise Papers – Secret Lives of the Rich & Privileged.

The billions in unpaid tax by the royal family and the UK top aristocrats, as documented in 2017 Paradise Papers, where the Queen, Prince Charles, Prince Andrew dodged tax demonstrate this. So much for the concept of noble obliges (the obligation of nobility), to lead by example.

The royal hypocrisy is further compounded in that their secret wealth is tied up in enterprises that mean they will financially benefit from the questionable approach to a 'better planet' that the royals are called upon for market endorsement.
For example in Tuvalu, as Part of The Royal New Zealand tour Prince Charles royal itenary declared on Charles will "focus on environmental issues and how local communities are responding to climate change," It includes meeting with "young people to discuss climate change and how they are contributing to solve the problems posed by climate issues".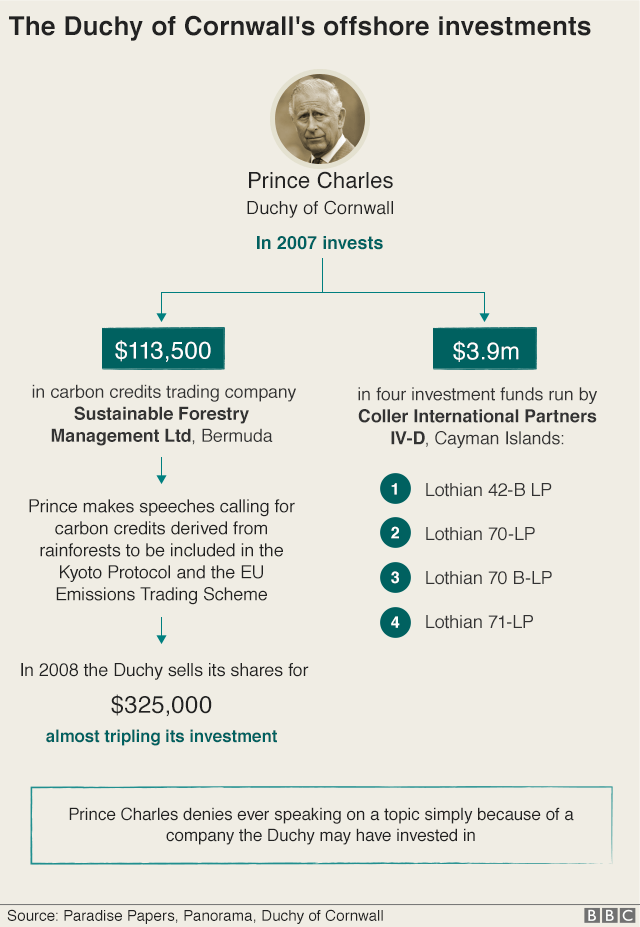 On November 7th BBC Panorama reported that Prince Charles was campaigning to alter climate-change agreements without disclosing his private estate had an offshore financial interest in what he was promoting.
The Paradise Papers show the Duchy of Cornwall in 2007 secretly bought shares worth $113,500 in a Bermuda company that would benefit from a rule change.
While Prince Andrew "the entrepneur prince" Pitched @Palace, a tech startup mentoring program, is drawing scrutiny not just for his friendship with hedge fund banker and paedophile Jeffrery Epstein .
Prince Andrew's used the initiative to link up fledgling businesses with investors.
"Pitch@Palace appears to have been a vehicle for Prince Andrew to enrich himself at the cost of the hardworking entrepreneurs he claimed to be helping". Pitch@Palace was asking for equity from firms that managed to win funding after the event. The scheme itself has been funded by big business sponsors like Standard Chartered and KPMG. Since Andrews Epstein scandal the Queen has kicked Prince Andrew's Pitch@Palace out of Buckingham .
Prior to the Epstein scandal Prince Andrew drew criticism over his relationship with Tory treasurer hedge fund king and self confessed tax dodger Lord Stanley Fink whose hedge fund Man Group is audited by KMPG.
Sounds legit to me.
Fink is also sponsor of the child charity Global Party, a charity with off shoot to other major charity Hedge Funds. It has an international list of celebrity and politicians patrons many of whom can be tide, again directly, to sex trafficking embezzlement and money laundering affairs. All bonded by at less one common denominator they are listed in the Paradise/Panama Papers data base which in turn mentions New Zealand trusts more than 60,000 times.
While The Global Party and The Akaroa Health Hub joined together to create an invite-only VIP charity event strictly for rich-listers in 2011. The event held at the New Zealand Akaroa Winery was hosted by former Tory treasurer and hedge-fund king Stanley Fink and his business partner, entrepreneur David Johnstone. The event was co-hosted by Lee Robinson a senior partner in Christchurch law firm Saunders Robinson Brown (SBR), the firm who handled hush payment for victim of Catholic church child abuse.
In 2019 Nicola Frances Bell was listed as the sole shareholder of AJP Trustee Services and AJP Trustee Services whose registered address is Christchurch law firm Saunders Robinson Brown (SBR), where Fox works as managing partner. According to the Christchurch Press Zitamar.com ( a news website dedicated to covering Mozambique issues), Andrew Pearse of Credit Sussie helped two companies, owned by Mozambique's secret service, borrow US$1.47 billion (NZ$2.18b), which threatened to bankrupt the country after it struggled to keep up with repayments. The Paradise Paper show Pearse was a shareholder of Palomar Holdings and Palomar Energy Holdings, both registered to tax haven the British Virgin Islands. Pearse took $70m in bribes and kickbacks from the scheme which he pumped into Christchurch property market including two Christchurch properties that are now co-owned by a company with the same initials as Pearse, called AJP Trustee Services.
Robinson was critical in getting victims to sign non disclosure agreements that help maintain a cover up on widespread institutionalised sexual abuse for twenty years.
In 2003 Lee Robinson was one of the negotiating lawyers involved when Sister's of Nazareth (above/below) brokered a deal with 17 people alleging abuse at its Christchurch orphanages, men and women who complained to the Sisters of Nazareth about their time at Nazareth House and St Joseph's Home between the 1930s and 1960s who were violently and sexually preyed upon. The Catholic church apologised to the alleged victims and gave away thousands of dollars in "gifts" to the victims: but did not go so far as issuing an apology.
Lee Robinson told the press the beneficiary if the 'gifts' were in the care of the church for several years., were they've been "disenfranchised" and "compromised" as a result of all sorts of things including "they say" their time at Nazareth House. SEE ALSO ANOTHER KIWI PARADISE OFFENDER
Outside of hob nobbing with royalty sponsoring charity for the lawyers of paedophiles Fink also dabbled in being in making Africa green or at less making himself some green from Africa's forced privatisation of its forestry. A preocess now taking place in New Zealand under the current government. .
Fink, who is CEO of the New Forrest Company East Africa, has claimed the privatising of Mozambiques forest and water is alleviating, poverty in its host nations and combating climate change. Prime Minister Ngabonziza, Director General of Rwanda Water and Forestry Authority says "We started privatising state-owned forests, our assessment revealed that forests can be well-managed and maintained if they are privatised,"
However New Forest Company is accused separately by Oxfam of exploiting intimidating workers, displacing 22,000 indigenous tribes people and off scamming carbon credits in a virtual ponzi trade as they rorte the carbon trading scheme and climate loans get diverted to buy weapons.
In schemes whose profits are then hidden in tax havens to maximise profits.

Some thing to think about retrospectively as you think about the privatisation of New Zealand Forrest and learn that on Friday 22nd November, the New Zealand Institute of Forestry hosted a small "round-table' meeting with The Prince of Wales in Christchurch to discuss "opportunities" and challenges facing the forestry sector in New Zealand. Eleven forestry professionals; including the 2017, 2018 and 2019 recipients of The Prince of Wales Award for Sustainable Forestry met Prince Charles.
"The discussion covered the challenges presented by climate change, pest and disease incursions and the need to strengthen the forestry sector's social license to operate. The potential contribution of forestry to the New Zealand bio-economy along with the promising and varied career opportunities offered by the forestry sector, were identified as significant opportunities".
https://www.scoop.co.nz/stories/PO1911/S00298/institute-of-forestry-hosts-meeting-with-the-prince-of-wales.htm

In April 2018 during his trip to Austrlaia Charles also preached the notion of a blue economy to Corporate executives including Disney and Quantas "through which sustainable economic development is achieved via the wise use of ocean resources," he said.

As to what wise resources means? In August 2019 at the Pacific Island Forum held in Tuvalu (Tokelau nearest neighbour) in August, Fijian Prime Minister Frank Bainimarama floated the idea that a 10-year moratorium, on seabed mining across the entire Pacific Ocean, take place to allow for"sufficient" research into the likely biodiversity impacts.
The bid was supported by Vanuatu and Papua New Guinea.
It was opposed by the other member states including Australia, Cook Islands, Federated States of Micronesia, French Polynesia, Kiribati, Nauru, New Caledonia, Niue, Palau, Republic of Marshall Islands, Samoa, Solomon Islands, Tonga, New Zealand and Tokelau the beneficiary of 150 million dollars subsidiary from New Zealand that will allow then to build infrastructure to combat rising sea levels due to climate change.
Coincidentally that infrastructure will also prove vital to the trillion dollar deep sea mining bonanza that the uber rich (who have the most to gain ) preach is the means of saving the planet.
Tokelau who voted against the moratorium, New Zealand administrator is Ross Adern father of NZ PM Jacinda Adern.
Adern was previously implicated in the Paradise Paper affair in 2017 in relation to donations made to National party . In a case which resulted in defamation case against former Labour leader Andrew Little which ultimately saw Little not guilty. Not that made a difference to ultimate outcome of Jacinda's rise to power, Labour not committing to its pre-election promise to walk away from the TPPA and the entrenchment of yet another Labour government committed to the values of the golden chalice of corporate neo-liberalism and global elitism.
Meet 'The Firm', do as we say not as we do.
The DEADLINE Gazette May Issue 12 – SPECIAL REPORT Jeff Bezos down under Part 1.